Annabel Sengstock '22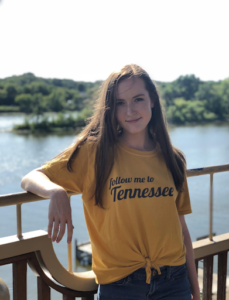 Hello, world! I'm Annabel.
I'm from Chicago (like most people at Vandy) majoring in Secondary Ed and English with a minor in History (unlike most people at Vandy). I'm also a proud member of the class of 2022.
When I'm not in class, you can find me watching Black Mirror, chowing down on a Rand bowl, or doing karaoke with my friends from West House. (Shoutout to my Westie Besties!) Aside from being an Inside 'Dores blogger, I'm a floor representative on the Commons Leadership Council and a 'Dore for a Day guide for prospective Vanderbilt students. I'm also involved in WilSkills and University Catholic! I'm super passionate about socioeconomic and racial inequality in gifted education, and I eventually want to conduct research to find new ways to test for giftedness. After graduation, I'm hoping to teach academically talented middle schoolers.
I really love mentoring and giving advice, which is why I became an Inside 'Dores blogger. Please reach out to me at annabel.r.sengstock@vanderbilt.edu if you have any questions about Vanderbilt or just the college admissions process in general!
Click here to scroll through all my posts ever!
My recent posts:
Dealing with Rejection at Vanderbilt
Need a Lifestyle Change? Here Are Some Resolutions for Second Semester