Annabel Sengstock '22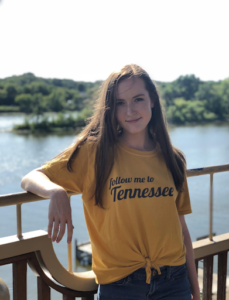 Hey there! I'm Annabel, and I'm stoked to be a blogger for Inside 'Dores.
I am a sophomore from Chicago double majoring in Secondary Education and English with a minor in History. I'm very passionate about equity, diversity, and inclusion in gifted education, and I eventually want to conduct research to find new ways to test for giftedness. After graduation, I'm hoping to teach in a middle school environment. Ask me about anything education-related, and I'll talk your ear off for hours!
Aside from being an Inside 'Dores blogger, I'm the PR Chair for Warren College and a 'Dore for a Day guide for prospective Vanderbilt students. I'm also involved in Peabody MentorADore, the Secondary Education Advisory Council, and I have an off-campus job. When I'm not in class or fulfilling duties for my aforementioned extracurricular involvements, you can find me procrastinating the endless amounts of work I have to do by attending indie concerts, watching trashy reality TV, hammocking, or goofing off with my friends. (Shoutout to my Westie Besties!)
I really love mentoring and giving advice, which is why I became an Inside 'Dores blogger. Please reach out to me at annabel.r.sengstock@vanderbilt.edu if you have any questions about Vanderbilt or just the college admissions process in general!
Click here to scroll through all my posts ever!
My recent posts:
The Ultimate List of Move-In Life Hacks for Future First-Years
How I Met My Friends Freshman Year (and how you can meet yours, too!)
The Ultimate List of Life Hacks for Future First-Years