Annabel Sengstock '22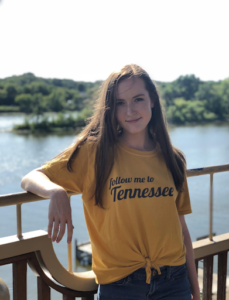 Hey there! I'm Annabel, and I'm stoked to be a blogger for Inside 'Dores.
I am a sophomore from Chicago double majoring in Secondary Education and English with a minor in History. I'm very passionate about equity, diversity, and inclusion in gifted education, and I eventually want to conduct research to find new ways to test for giftedness. After graduation, I'm hoping to teach academically talented middle schoolers. Ask me about anything education-related, and I'll talk your ear off for hours!
Aside from being an Inside 'Dores blogger, I'm the PR Chair on the College Programming Advisory Council and a 'Dore for a Day guide for prospective Vanderbilt students. I'm also involved in University Catholic and the Secondary Education Advisory Council. When I'm not in class or fulfilling duties for my aforementioned extracurricular involvements, you can find me procrastinating the endless amounts of work I have to do by attending indie concerts, watching trashy reality TV, dabbling around on my ukulele, or goofing off with my friends. (Shoutout to my Westie Besties!)
I really love mentoring and giving advice, which is why I became an Inside 'Dores blogger. Please reach out to me at annabel.r.sengstock@vanderbilt.edu if you have any questions about Vanderbilt or just the college admissions process in general!
Click here to scroll through all my posts ever!
My recent posts:
The Ultimate List of Life Hacks for Future First-Years
Dealing with Rejection at Vanderbilt