Mykayla Couchenour '24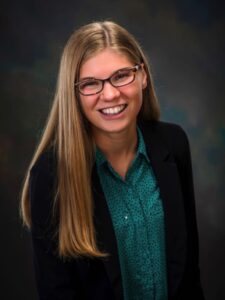 Hey pals! My name is Mykayla Couchenour and I am a freshman in the College of Arts & Sciences here at Vandy. I am planning on majoring in American Studies, and I'll probably pick up a minor either in HOD or music–I know those are two very different things, haha!
I am from the small town of Vincennes in southwest Indiana. I am crazy about my hometown and love to talk about Indiana!! At Vanderbilt I am involved in Naval ROTC (Marine Corps Option), VUDU (the women's Ultimate frisbee team), Navs, and Sigma Phi Lambda (the Christian sorority). I love Jesus, reading, singing, rollerblading, beekeeping, kayaking, agriculture, and a bunch of other things so please don't hesitate to reach out with any questions or just to say hi! My email is mykayla.e.couchenour@vanderbilt.edu.
Anchor Down,
Mykayla Couchenour