Volunteering at Vanderbilt
Hi, everyone! Today I wanted to talk (write?) a little about the amazing volunteer opportunities I've taken advantage of here at Vanderbilt. As prospective students, I'm sure y'all have had a ton of volunteer experience in high school and want to try to incorporate that into your college lifestyle. I know that I sure did! Unfortunately, I didn't get as involved as I would've liked to during my first semester because I was so busy getting adjusted to my new workload and being away from home. But this semester I'm in Introduction to Exceptionality with Dr. Wehby, which requires all students in the course to get at least 15 service hours working with individuals with special needs! Without further ado, I'll explain some of the different places I've done service to fulfill this requirement. (Disclaimer: A few of these opportunities are faith-based and/or take place in churches. These are open to anyone, and there are plenty of secular choices, too.)
Brighter Days at Edgehill United Methodist Church
Brighter Days is an after-school tutoring program for students in kindergarten through sixth grade. It's located in Nashville's Edgehill neighborhood, which is super nice because it's only a ten-minute walk from Vanderbilt's campus! Many of the students I work with are considered "at risk" for poor school performance and come from homes in low-income areas. The abilities of each child that I work with vary greatly, just like the classrooms I eventually hope to work in–some kids have learning disabilities, some have behavioral disabilities, and some are gifted. Generally, I work one-on-one with students, helping them with their homework as well as explaining concepts that they've already learned at school but are having trouble understanding.
The Ascent
The Ascent is a faith-based program for adults with intellectual disabilities. It takes place at a huuuge church called CrossPoint that's about a twenty minute drive from campus. (The scenery along the route is totally worth it, though: this is a great option if you or a friend have access to a car!) At The Ascent, I usually mingle and help out while the participants and I eat a delicious pizza dinner, play games, do crafts, sing, dance, and listen to a religious talk. I love that dinner is included, and the friendships that I make always stick around from week to week as I've learned names and faces!
Youth Encouragement Services
I actually didn't find out about Youth Encouragement Services (also called YES) through my special education class, but through my friend Sophie! Sophie is involved in so many service organizations at Vandy, and she's totally my role model when it comes to volunteering. Anyway, YES is a Nashville-based group that offers educational and recreational programs for kids aged 6-18. It's located in a neighborhood youth center about a 15 minute Lyft ride from campus. Vanderbilt's Office of Active Citizenship and Service (OACS) actually gives out ride codes for free, so volunteers can get to and from the site without paying a penny! The program basically serves as a place for students to go during after-school hours, so we help kids with their homework and play basketball with them in the gym afterwards. (I usually choose to show off my origami skills instead of playing basketball… that's more my speed.) The kids here are so cute and affectionate, and will never hesitate to run up to me and give me big hugs when I walk in.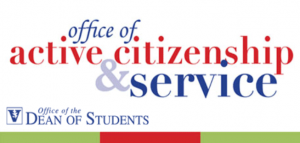 Well, these are the off-campus volunteer opportunities that I've been involved in so far at Vandy! I hope to get much more involved in my eventual semesters here. There are so many other cool-sounding service organizations that I really want to check out, including VSVS (Vanderbilt Student Volunteers for Science) and Project: BRIDGES, which involves working with refugees who are new to Nashville. There are literally hundreds of other opportunities that I haven't mentioned. The great thing about all of them is that they're usually open to anyone who wants to get involved. So if you're interested, just ask!
—
If you have any questions, please feel free to email me at annabel.r.sengstock@vanderbilt.edu. I really want to hear what's on your mind!!
Love, Annabel