How I Met My Friends Freshman Year (and how you can meet yours, too!)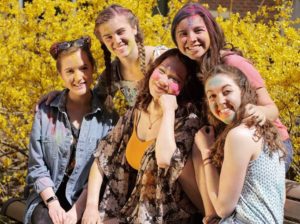 Before arriving at Vanderbilt, I remember being super stressed about how I'd find 'my people.' I already had a roommate lined up, but would we be best friends? What if she was my only friend? Would I even be able to fit in with the stereotypical Vandy student?!
Of course, all those concerns flew out the window the minute I got to campus. I never thought that I'd have a wonderful group of friends, be able to say hi to people I pass on my way to classes, or participate in social events every weekend– but college has been an amazing opportunity for me to meet lifelong pals. So for all of you future first-years out there who may be worried about how you'll make friends, this post will explain how I made some of my closest ones!
Facebook
Okay, I know everyone says that Facebook is for old people, but trust me on this one–join your class' Facebook group after your acceptance to Vanderbilt!!! It's how I met my freshman roommate and BEST FRIEND EVER, Ellie. In our Facebook group, someone had created a huge Google spreadsheet with information for potential roommates. When Ellie saw that I went to the same high school as her cousin, she reached out and said hi. It was that simple! In this situation, it's not awkward at all to slide into someone's DMs with something weird you both have in common ("Hey! We both like avocados!") and see if your personalities click. With that said– please don't be basic when using social media to find a roommate. Try to stand out from the crowd… liking to watch The Office and pet dogs is awesome, but it's not a personality trait.
Vanderbilt Visions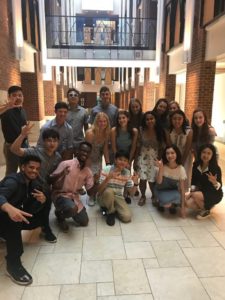 For those of you who don't know, Visions is an orientation program that sets freshmen up for success during their first few months of college. Before getting to campus, you'll be randomly placed in a group of around eighteen first-years, with an older student and a faculty member to act as mentors (called VUceptors). You'll get really emotionally close with your Visions group as you all adjust to your new lives together, which means it's certain you'll make a few friends along the way! For me, my Visions buddy was Amanda. Amanda and I lived in the same house last year (West House best house!) so it was super nice to have someone to walk to and from Visions meetings with. Now, we're pretty much inseparable :) In order to make friends in Visions, though, you need to show up. If you stop coming to meetings after the first few weeks, you're not letting those relationships develop to their fullest potential.
Religious Groups
At the beginning of the year I participated in Roman Rush, which is a collection of fun activities hosted by University Catholic for any new students who are interested in getting involved. I got to make s'mores around a bonfire, go on a huge scavenger hunt around downtown Nashville, and even try my hand at swing dancing in an alley! I met a ton of new friends through these events, including one of my best friends Andrea. We were acquaintances because we shared a class together, but Roman Rush allowed us to get to know each other better outside of school. We became even closer friends on a weekend retreat in November, and we've been Mass buddies ever since! So for all of you first-years out there, attend the welcome events hosted by a cultural or religious organization you identify with. You may not be active in the group itself later on in the year, and that's okay! But attending the first few events at the outset will get you introduced to some friends who share core values with you.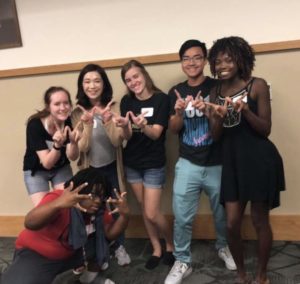 House Advisory Council / Commons Leadership Council
The #1 piece of advice I have for you in your first year? Get involved in the Commons Leadership Council! It's a student governing body that's in charge of planning all of the events that go into the Commons Cup, as well as programming smaller activities at the house level. I was a Floor Representative, and my position connected me with my Faculty Head of House and the administration at the Office of the Dean of the Ingram Commons. It also brought me really close to my friend Sophie! Sophie was a Service Commissioner, and we worked with the five other members of our House Advisory Council to make West House a family. I picked up so many professional skills–and friends–through my role, and it was one of the best experiences of my freshman year. I would highly recommend it to anyone: there are a variety of positions available depending on how much you want to get involved.
—
If you have any questions, please feel free to email me at annabel.r.sengstock@vanderbilt.edu. I really want to hear what's on your mind!!
Love, Annabel