Vignesh Chennupati '23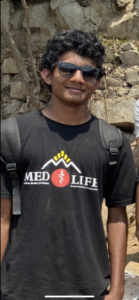 Hey y'all!
My name is Vignesh Chennupati and I am from Beaumont Texas (a small town 2 hours away from Houston) and I've spent my entire life in Texas. I am a sophomore in the school of engineering majoring in Biomedical engineering while on the pre-med track.
On campus, I am involved in Club tennis, Biomedical engineering society, Medlife, Vanderbilt Student Volunteers for Science, and am a blogger for Inside 'dores. I am also a part of a radiation oncology research lab in the medical center. In my free time, I enjoy playing tennis, playing video games, and watching movies.
If you have any questions whether it be about engineering, pre-med, tennis, or even video games, please do not hesitate to email me at Dhearaj.v.chennupati@vanderbilt.edu!