Jeevan Rajkumar '24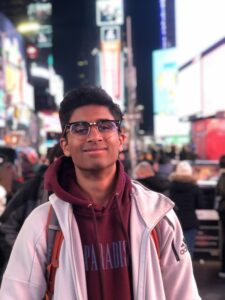 What's up!
I'm Jeevan, class of 2024. I'm from the Bay Area, California, and I've pretty much stayed there all my life. I'm a freshman currently planning to major in either Chemistry or Chemical Engineering as well as a prospective minor in Spanish.
Within Vanderbilt, I'm involved in 'Dore for a Day, Chess Club, Run Club, Club Basketball, and Vanderbilt Student Volunteers for Science. In my free time, I like to run around Centennial Park, visit the Pedestrian bridge and watch the Nashville skyline, and listen to Khalid.
As a freshman, I've only experienced Vanderbilt's community during the pandemic. I can say without hesitation that it has been one of the most warm and welcoming places I've ever experienced. Please reach out to me at jeevan.s.rajkumar@vanderbilt.edu with any questions about college applications or student life here at Vandy.
Anchor Down!
Jeevan