The Ultimate List of Life Hacks for Future First-Years
A quick update on my life right now: After a long and much-needed respite from schoolwork, stress, exams, and papers–pretty much everything, really–I'm BACK on Vanderbilt's campus to be a counselor at Camp Vandy, which is a summer program for elementary-age kids put on by the Rec. The best part is that I get to stay in Kissam (one of the nicer, newer dorms) in a 5-person suite for FREE! Woo-hoo! If you'd like me to share more about my experience, let me know, and I'd be glad to write a post about it. Anyway, back to your regularly scheduled programming.
Your freshman year can be super scary because you don't really know what to expect, and you kind of have to learn things as you go. There's a lot of generic college advice available online, but I've learned a few Vandy-specific life hacks, tips and tricks that I think will come in handy for you incoming first-years and transfer students out there. Consider it a gift of sorts, from me to you. So here is a list of inside information, organized in categorical and bullet-point form for your convenience! This post is going to be a long one, so get ready.
Financial Tips
When it comes to textbooks, rent used and rent early. Last year, my strategy was to wait to get books until I had verbal confirmation from my professors that we would actually be using them. That never worked out well for me, because when I waited to get them at the last possible second, all of the used rental books were gone. I would suggest getting your books ahead of time so you can get the best possible price. If it's on the syllabus, you're almost certainly going to need it.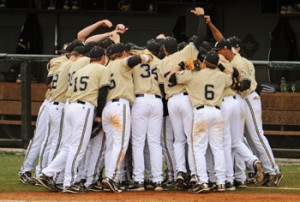 Take advantage of free stuff. In need of some Vandy gear (or just, well, clothes in general?) The amount of T-shirts, fanny packs, onesies, hats, and water bottles that Vanderbilt Athletics gives away is INSANE. Just by showing up and supporting the 'Dores at different events, you can get a variety of normally-expensive things for free. I suggest downloading the Dore Rewards app, which sends you notifications about upcoming games and what you'll receive if you show up. There's also a rewards system where if you 'check in' via the app, you'll receive points that you can save up to cash in for really nice prizes, like Nike gear and opportunities for unique experiences.
Make some extra cash on the side by becoming a guinea pig. Okay, not literally, but if you want a little spending money but don't want to commit to an on-campus job, participating in psychology research studies is the way to go. Although the amount you'll receive varies, usually it's about $25 for 1-2 hours of your time. Not too bad! Go here to register for an account and see the available studies.
Using Your Resources
Suggestions for Your Social Life
Develop relationships with your Faculty Head of House, RA, the security guards, and the maintenance staff assigned to your building. It helps them–and you–feel more welcome, and does a lot to develop a cohesive community in your Commons House! My friends and I got really close with the Head Resident in our house this year, and he's basically one of us now. We have our own jokes, hang out in the basement and the lobby all the time, and feel comfortable having deep discussions with him. Also, by introducing ourselves by name to the security guards, we've been able to strike up friendships with a few of them, too! It helped me have some peace of mind to know who was keeping our building secure at night. Basically, be as friendly as you can to everyone who's helping you stay safe, happy and comfortable (as long as you're not distracting them from their jobs).
Try to have a super open, honest conversation with your roommate ASAP after move-in so that both of you have some rules and expectations laid down for the future. Even if you're best friends and you think nothing could possibly crop up, it's still good to have a direct conversation in order to avoid awkward confrontations down the line.
You probably aren't going to make solid friendships by "going out" during the first few weeks of school. Good friendships are made over deep late-night talks in your house's common area. Hang around in the lobby or basement, and start a conversation with whoever walks by. You could also leave your door open and wait for people to pop in and say hi! Regardless, there is a time and a place for partying, and (in my opinion) the first few weeks of your freshman year are not that time. Allow yourself to ease slowly into college life, and find a group you're truly comfortable with first.
Get a spikeball net. Just trust me on this one. Spikeball is a quintessential aspect of college life, and the sooner you can learn to play, the better. You don't have to be great at it, but it's a casual way to meet people. Plus, it can be played rain or shine, indoors or outside (at least, according to the guys in my friend group).
Generic Pieces of Advice
I'm sure you've heard this one before but try everything. Seriously! Just do it, even if it might be out of your comfort zone or not something you normally do. College is one of the rare times in your life where the world is your oyster and you get to dive deep into discovering who you really are and what you want the rest of your life to look like. I touched on this a little bit in my last post, but attending a religious service that you would never have thought to go to or going to see a speaker from the other side of the political aisle is part of becoming a mature, well-balanced citizen of the world.
If you would've asked my roommate Ellie for advice, she would tell you to do two things: "Drink water and get sleep." Pretty simple, but very often glossed over. If getting a sufficient amount of sleep at night isn't your forte (it's certainly not mine), then take naps during the day! College schedules will allow you to do that sometimes. Also, I suggest investing in a large, insulated water bottle, like a Hydro Flask. It's pretty hot in Nashville during the first few months of the school year, so it's always nice to have cold water to drink during your long walk from Commons to main campus.
So, I think that's about it! I can honestly say that my first year at Vanderbilt has been the best year of my life, and I absolutely can't wait to be a sophomore. I miss all of my friends that I made this year, but I'm so blessed to be living in Nashville and getting to experience the magic of this campus all year round. Stay tuned for my next post…
—
If you have any questions, please feel free to email me at annabel.r.sengstock@vanderbilt.edu. I really want to hear what's on your mind!!
Love, Annabel