SNOW!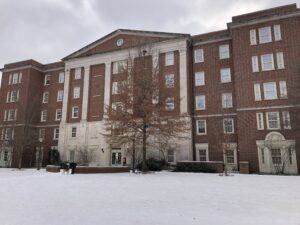 A few weeks ago, Nashville received a couple inches of snow. Being from Indiana, I am used to getting snow like that several times each winter, but it is rare for Nashville to receive that kind of snow. Because of this, the roads were not plowed and the sidewalks were covered in snow for several days (Nashville usually doesn't have much need for snowplows or road salt, so the snow removal was a slow process!). Most restaurants were closed, and most of our Vandy classes got moved to online (if they weren't online already). It definitely changed a lot of people's plans and schedules, but there were so many positives about the snow! 
I lost count of the number of snowmen that I saw around campus. People got really creative–I saw a snowfamily, snowmermaid, and various other snowanimals. 

The snow was perfect for an impromptu snowball fight with some of my friends. 

I also attempted to go sledding, using the lid of a plastic tote. People are very innovative when it comes to sleds. Naturally, no one thought to pack sleds or snowboards–most people didn't even have adequate boots in which to trudge through the snow! Therefore, it was fun to see that people were using their imaginations to find ways to sled down a snowy hill. 

In addition to these fun outdoor activities, it was such a treat to be able to drink coffee while cozying up inside. 

Not to mention, campus is beautiful when it is under a blanket of snow! 
While a snowstorm like this does not happen in Nashville very often, it was very welcome!