Nashville's Marching Band, and the Vandy Bubble
It's the start of spring semester and I already miss football season. As a result, I thought I'd write about my experience so far in the Spirit of Gold Marching Band, otherwise known as SOG. I'll talk about specifics like Gameday in later posts, but for now here's just an introduction:
One of the most unique features of the band is that membership is open to all college students from the Nashville area, including Belmont, Trevecca Nazarene, Lipscomb, Vol State, and Nashville State. And so even from my first day on campus, I had the opportunity to be introduced to and become close friends with people who I never would have otherwise met.
You'll often hear people use the phrase the "Vandy Bubble" to describe the tendency of Vanderbilt students to become so involved in campus life that they miss out on the countless other things Nashville has to offer. And while I think that this is true to an extent, I would also point out the value in spending some time in your first few months simply wandering around campus and getting a feel for the surrounding West End and Hillsboro neighborhoods (aka make sure to hit up all of those Taste of Nashville restaurants). There's a lot to explore just within walking distance, and it was only after building a familiarity with the areas around campus that I really began to feel confident about exploring the rest of the city.
Nonetheless, I won't deny that the Vandy Bubble can be easy to fall into at times. Campus life in non-pandemic times truly always has something going on, but part of why any of us chose Vanderbilt was because of its location, and it would be a shame to not fully appreciate being in Music City while you're here. As things turned out, this was also the reason why I loved SOG in my freshman year. It got me out of the bubble both physically (long walks from Commons to the stadium will clear your head like nothing else), and socially, without even having to think about it. Marching band kept things in balance, and I had the outlet that I needed in SOG to maintain some weekly perspective and remember that I was living in Nashville (an obvious fact, but it was easier to forget than I'd initially expected).
And in terms of band itself, while I'd always enjoyed playing my clarinet in high school, I wasn't sure if music was something that I wanted to continue in college. Looking back now though, I'm so glad that I did, and I'd encourage anyone involved in music to continue playing in college—it will serve as a continuity that will anchor you through the transition to college, and it's one of the best decisions that I've made at Vanderbilt.
Getting to move in a week early and spend 5 days sweating on the football field with 100+ people who care just as much as you in making good music and putting on a good halftime show is truly an indescribable experience. I knew my way around campus and had a solid group of friends not only by the first day of class, but by the time the rest of my class even moved in.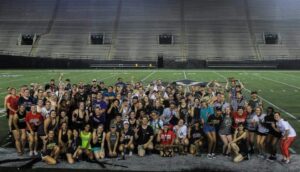 People say that you get out of student orgs what you put in, and I honestly believe that's true. Some people may see SOG as nothing more than an overly intensive time commitment, and while it requires dedication, having scheduled practices and games meant that I also learned pretty quickly how to manage my time. Combined with all of the rituals of band camp, gameday, and section traditions, SOG provided a structure to that first whirlwind of a semester which was sorely needed. Most people learn this by the time they leave Vanderbilt, but it's something that can be even more invaluable to know coming in: it's not the quantity of your involvements that matters, it's the quality, and SOG proved that to me the moment I stepped foot on campus.