It's Always Been About the People: Thoughts on the Halfway Mark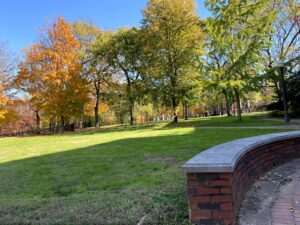 It's been about three weeks since I've wrapped up my sophomore year, which means that I'm now halfway through my time at Vanderbilt. But, and as is a common sentiment among most anyone who's lived through the past year and a half, part of me still feels frozen in March 2020, in the remaining months of my freshman year.
Upon returning to campus this past fall, I often had to remind myself that I didn't live on Commons anymore. It was jarring to realize that the reassuring net of programs like VUcept, Commons programming (shoutout to Murray Munchies), and all other first-year experiences simply didn't apply to me anymore. Instead, once you leave Commons you simply become an upperclassman, and while campus resources still exist, of course, there's certainly a moment of mild panic when you realize that you're supposed to be finished with the transition to college.
At a place like Vanderbilt, I don't think that you can ever truly feel like an expert on student life. There's always a unique academic initiative being launched, a new club rising through the ranks, a shiny residential college being constructed. In other words, campus seems to change as much as we do while we live in it. But with the pandemic this past year, as much as slowing down seems to be the antithesis of what it means to be a Vanderbilt student, I think that the culture here has changed permanently from it, and for the better.
This year has simultaneously been a lonely one and one where I learned to appreciate being alone. It was a year where I didn't meet as many new people as I might have hoped, but where I strengthened my relationships with the people that I did see regularly. It was one where, without the opportunity to immerse myself as deeply in extracurriculars as I would have otherwise, I gave a singular focus to my classes and found a level of academic fulfillment that I had never encountered before. I learned to take a simple joy in the routine, whether that was pausing to notice how the trees changed color or relishing in the familiarity of places like Satay and Jeni's as staples of "the card." I explored new running routes through Music Row and Edgehill, and felt that I got to understand the city in a new way, in its quieter form.
Initially, I found myself making constant comparisons to what used to be. Walking through Rand, I'd look mournfully at the empty space where countless rows of tables used to sit, recalling the memories of how my friends and I used to pull up as many chairs as physically possible during the rush of lunch hour. Every time I took food back to my room that I would've eaten in a dining hall or logged off from a Zoom class when I would've stayed back to talk with classmates, I wondered what I was missing out on, and insistently looked forward to a future when things would return to normal.
But what I came to realize this spring was that this year was as much a part of my Vanderbilt experience as the chaotic bustle of freshman year. It involved reflection, a focus on the small things and the habits that kept me going through so much uncertainty. I grew differently than in the rush of my freshman year to constantly do more, see more, work more, because it was during this year that I focused on what I truly wanted to do.
And ultimately, in the absence of so many of the annual events that would've taken place, some of my happiest moments from sophomore year came from the people that I only could've met at Vanderbilt. Whether it was during contemplative office hours with my professors or Friday night dinners with the friends that I met on Commons, I had deeper conversations and felt more grateful for my community here than I had ever before; I learned to recognize a sense of peace in slowing down.
I'm beyond excited as things begin to open up, and I'm looking forward to everything that the fall will bring with football season, in-person classes, and more. However, I don't think that I could've appreciated just how special college is without the change of pace that the pandemic brought.
I didn't realize how much I would miss what I always assumed would be the day-to-day until it was gone. But my fallback, then as now, are the people in Nashville.