A Musical Weekend
Over the weekend I had the chance to attend many musical events including the Nashville Orchestra's performance of Tchaikovsky's Fourth Symphony, Vanderbilt Commodore Orchestra's Spring Concert, and the Rites of Spring concert. I did have some work but most of the intense studying will start later this week as we prepare for finals.
Coming to Vandy has been great for me because I've found a great balance between academics, relationships, health, and fun. It definitely didn't come right away, of course. I had to work really hard, last semester especially, to figure out how to manage my time and prioritize what was important.
Now that I've done so, I've gotten into the flow of college life and it has really been enjoyable, especially because I've had time to not only study and succeed in school but also attend awesome events like these ones!
A month or so ago, Vanderbilt Piano Society (Vandy's piano club which I'll be treasurer of next year – yay!) was planning on taking a group trip to the Schermerhorn Center, where the Nashville Orchestra plays. Unfortunately, the trip didn't work out, but they ended up giving me two free tickets to Thursday's performance of Tchaikovsky's Fourth Symphony! My friend Hannah and I loved hearing the orchestra play, especially since it was our first time seeing a professional orchestra perform. The first two pieces, Christopher Rouse's Supplica and Concerto for Orchestra were dark, dynamic, and suspenseful . The second piece was especially enjoyable due to its loud, crashing ending, and the conductor's enthusiasm for the piece was evident as he jumped up and down and stomped on the stage. After these pieces, they played Tchaikovsky's Fourth, which was more structured with a more lighthearted and structured sound. The repeating melody introduced in the beginning served as an interesting motif that anchored the piece's wandering passages, and the huge ending was even bigger and better than the second piece's! Hannah and I also got to roam around outside a little bit. We loved the fancy architecture of the building, inside and out, and the night was warm and beautiful.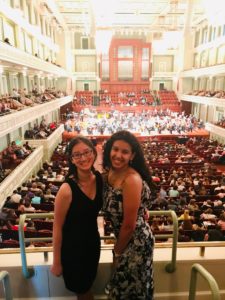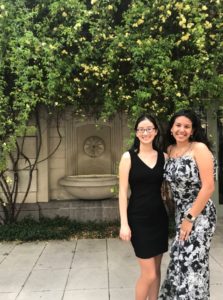 Hannah and I at the Schermerhorn Center
Vanderbilt Commodore Orchestra (VCO)
On Saturday afternoon, VCO held their annual spring concert at Ingram Hall. Not only do I love orchestral music but I also wanted to support a few of my friends. They played Spring Festival Overture by Li Huanzhi, Peer Gynt Suite No. 1 by Grieg, Die Moldau by Bedrich Smetana, the first movement of Beethoven's sixth symphony, and the fourth movement of Brahms' first symphony. All of the pieces were lovely and I especially enjoyed the first piece, which had a truly beautiful spring sound and was very different from most orchestral music I've heard. Grieg's suite was also delightful to hear; the first movement's classic melody will never fail to bring a smile to my face!
Rites of Spring is an annual two-night concert held on Alumni Lawn. I originally wasn't planning on attending but since I had worked really hard in the past few weeks, I had less to do than expected and decided to have some fun! Friday night, Ari Lennox, Jamila Woods, and Moon Taxi played. My friends and I went a little late and only saw the latter two acts but they were both amazing. I had never listened to Jamila Woods before but I'll definitely be listening more to her music because her sound is really unique. Moon Taxi was also really fun and we were in the front and center of the audience, so we were dancing our hearts out to the rhythm of the crowd. At the end of the night they played Queen which the audience naturally loved and ended the show with lots of energy.
On Saturday night, (Vanderbilt's own) Lackhoney, Big K.R.I.T., and 21 Savage performed. Even though it started to rain, I saw the second two acts and I'm glad I did because it was a wild experience. During Big K.R.I.T's performance it was just starting to drizzle but it really began pouring later on. Lightning flashed multiple times and they told us to wait inside for about a half hour before 21 Savage performed. The rain didn't stop us, though, and when he came out, the crowd sang and danced along to all the songs as the rain became stronger and stronger. Attending a concert in the rain was quite a unique experience and one I don't think I'll ever forget. I'm really glad I ended up going though because I had a lot of fun and got to spend some time jamming out with my friends. On the way back we were all totally drenched but it was worth it. I'll definitely go next year!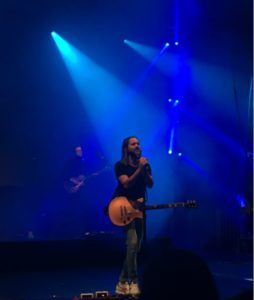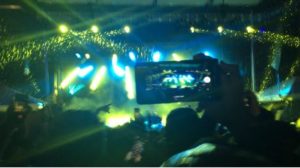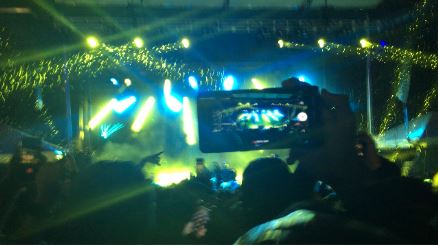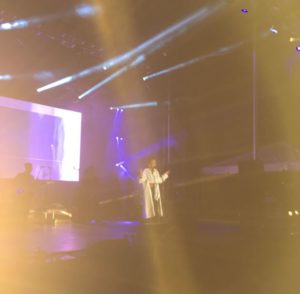 Moon Taxi, 21 Savage, and Jamila Woods