Why I Chose Vanderbilt
It's that time of the year! No, not Christmas– It's time for regular decision admissions! 
I remember how anxious, excited, frustrated, and hopeful, etc. I felt last year during this time and I'd love to share with y'all a little bit why I chose Vanderbilt and how I did it. As the typical type-A student, after I received my decisions, I made a chart in Google Docs with the schools I had gotten into and made spaces for several categories such as academics, community, campus, size, location, culture, prestige, finances etc. I identified a few of these categories that were really important to me (see below) and tried to figure out which schools fulfilled those areas the most. A variety of factors will go into your decision, and your job is to identify what is most important to you (and your family). Since I was admitted off the waitlist (yes, it does happen) I actually used this method twice, so I hope it can help you! Email me if you have any questions at emma.g.follman@vanderbilt.edu.
Here were the reasons that made me anchor down:
Community – At an undergraduate enrollment of a little under 7,000, Vanderbilt's size is perfect for not only meeting lots of people but also forming close relationships. Especially on the Commons, making and maintaining meaningful connections has been so easy because all freshman live in the same area. Students are constantly bumping into new and old faces. The overwhelming majority of the students that I've met here are welcoming, friendly, and willing to help you out when you need it. Also, the upperclassmen who welcome freshman as VUceptors or RA's have done an amazing job at making this place like home. In general, living on the Commons helps form a unique class identity of a group of students who have been living, studying, playing, crying, and laughing together.
Academics & Opportunities – Having originally thought that I would major in engineering, I planned on going to a more STEM focused school. However, now that I've decided to study neuroscience, I'm very glad I decided to come to Vanderbilt where we have a ton of options in what we can major in. We can also take classes in any of the four undergraduate schools – Blair, Peabody, A&S, and Engineering – which is important for growing a more diverse perspective. For example, I'm actually thinking of doing the Scientific Computing minor, which is like a CS minor but from a more applied approach. The opportunities to get involved outside of the classroom are also a huge reason I decided to come to Vandy. Participating in research in particular is very easy even as a freshman – simply emailing professors and showing interest will get you in the door! Besides research, Vandy has a ton of fun clubs (for instance, I went to piano club yesterday!) and organizations to join. I definitely feel that I've been able to explore my passions here academically and extracurricular, and for that, I'm very grateful.
Nashville – Living in Nashville is one of my favorite things about Vandy. The city abounds in amazing food, music, and talent and traversing it is fairly easy with a (free) city bus pass, motor scooter, or Uber/Lyft. As for food – the student meal plan also provides access to many off-campus restaurants near campus, like Pancake Pantry, Nama, Mellow Mushroom, etc, and trying out all of them with my friends is a great way to explore a little. Music also fills the city; tons of huge concerts take place all the time in Nashville. The freshman class party last semester was Beyonce (!!) and I also saw twenty one pilots in October and Travis Scott on Wednesday. Plus, I also acquired free tickets to the Nashville Symphony through piano club! Tons more exciting things happen here (and apparently 100 people move here a day), so whether you're interested in volunteering, tutoring, working, or just having some fun – Nashville is a great city to do it in!
Collaborative Culture – Despite Vandy's academic rigor, the environment here is largely collaborative rather than competitive. Students for the most part are extremely willing to help you out if you are struggling in a topic, don't understand something, or just need a good pep talk. There's a general sense that we're all in this together (cue HSM). I think a big part of this is that the introductory classes like Gen Chem, Bio, Econ, Math, etc. are pretty difficult which drives students to study, grow, and overcome these new challenges together. Aside from academic collaboration, I've found that students here, especially upperclassman, are readily willing to give advice to freshman about picking majors, traversing freshman year, social life, etc. When I was trying to pick a major , I reached out to many of the upperclassmen in different areas and they were all nice enough to meet for lunch with me and talk. This support network has been a huge help to me, especially as someone who knows nobody from my highschool.
Campus – Vanderbilt's campus is beautiful! The towering trees, lush lawns, and picturesque brick buildings are amazing to walk through every day. The campus, despite being in a city, is basically its own walled-off bubble and feels very much like a normal suburban campus. While the aesthetics of a college might seem superficial, enjoying your environment and physical surroundings plays an important role in how you feel on campus. Of course, the weather isn't always perfect, and during the winter months there is lots of rain, gray, and random temperature changes. However, summer lasts slightly longer and spring starts just a little bit early. The past few weeks have seen many sunny days and students have started relaxing on the lawns, getting out their hammocks, and wearing shorts/t-shirts!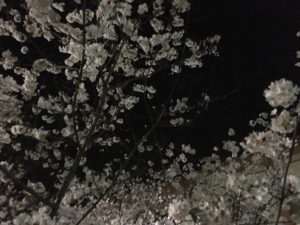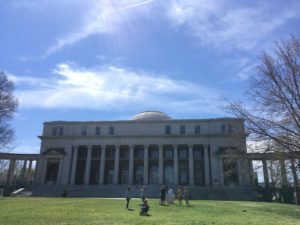 Cherry blossoms outside Branscomb (left) & Wyatt Center (right)