The Day It All Began!
This is a MAJOR throwback!
My Vanderbilt journey began on this day, four years ago, when I woke up early in the morning for a Chemistry final in high school. I checked my inbox and saw an unexpected email sitting there. Here it is: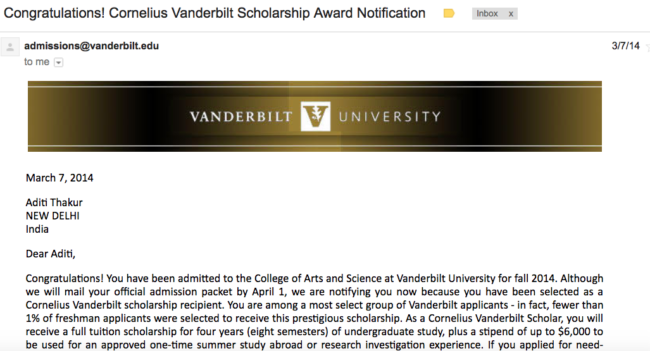 I was admitted to Vanderbilt as a Cornelius Vanderbilt scholar! Back in late 2013/early 2014 when I was a high school senior, I was so busy managing college applications and schoolwork that I had completely forgotten that I had applied to the Cornelius Vanderbilt scholarship program. In fact, I was so oblivious those days that I wouldn't have known about the scholarship had it not been for Vanderbilt's information session at my high school, in which my admissions counselor, John Nesbitt, emphasized taking advantage of Vandy's merit scholarship opportunities.
This email was such a pleasant surprise, and to be honest, any email that began with "Congratulations" and not "Thank you for…" was a respite from the stresses of the college application season. Although I was waiting for a few other schools to send decision notifications, I knew Vandy's scholarship offer was hard to beat and that I was extremely lucky to have received it.
The Cornelius Vanderbilt scholarship program has shaped my Vanderbilt journey in many rewarding ways. This program has given me exclusive access to honors seminars such as Science Fiction and Construction of Reality to name a few. I have also "enriched" my regular classes in Economics and Managerial Studies for honors credit by researching topics such as India's economic growth and Uber's entrepreneurial culture. Through the scholarship, I've had the opportunity of studying in London in the summer with significant financial aid to learn more about the relationship between World War II and Economics.
The program has opened up other surprising avenues for me. By studying abroad in London, I was able to gain a dedicated mentor in Professor Robert Driskill, who supervised my Economics honors research in the aviation industry in junior year. Studying abroad in London also sparked my intellectual curiosity for World War II and prompted me to take a class on it during senior year, one of the highlights of my academic experience at Vanderbilt. Through course enrichment, I developed a much deeper bond with my major advisor, Professor Stephen Buckles, who has expertly guided me through my many highs and lows at Vanderbilt since freshman year. And last but not the least, I've befriended other Cornelius Vanderbilt scholars, one of my first communities at Vanderbilt.
Little did I know that March 7, 2014 would be one of the turning points of my life and the beginning of my Vanderbilt journey. Four years later, I cannot see myself attending any other university but Vanderbilt. As a senior halfway through the last semester, it's pretty easy to become jaded about college life (and life in general), but it's a simple thing like reading an old email that puts everything in perspective and makes it all worth it.