Moving on from The Commons
Wait. I'm a sophomore? What? How has this happened already?!
Freshman year has flown by and I can hardly believe it's been over a year since I first arrived on campus. While the transition from freshman year to sophomore year is far less dramatic than the transition from high school to college, being an upperclassman is still very different from being a freshman and this semester has brought so much new-ness. For me, one of the biggest changes has been that I no longer live on the Commons. :(
If you have read any of my posts from last year, you will know that I absolutely loved my time living on The Commons as a freshman. I fell in love with the incredible sense of community, the inspirational Faculty Heads of House and the jaw-droppingly beautiful Houses; The Commons will always have a place in my heart. Special shout out to Stambaugh House and my StamFam: y'all were the best!
This semester, I have three classes on the Commons (Peabody Campus) and I admit that each time I walk past my favourite old freshman hang out spots, I feel a twinge of sadness and nostalgia. I get especially emosh when I pass by Stambaugh as I am reminded of all the memories: being on the HAC, relaxing with friends on the StamBalcony…the list goes on.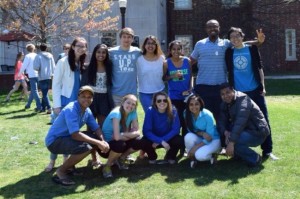 I miss the Commons dreadfully. However, I'm absolutely LOVING my sophomore year accommodation in the Mayfield Living Learning Community. The Mayfields (aka the Mayborhood) consists of twenty ten-person lodges, each focused on self-directed community project. There is such a great variety of projects going on and residents are tacking issues such as body image, racial injustice, gender inequality and much more! My Mayfield, called Mayfeelin' Good, is focused on stress management and mental wellness on campus..
I've been having a great experience in my Mayfield so far. As in The Commons, there is a really strong sense of community in the Mayborhood. In addition, each Lodge has a Faculty Adviser for their project which is a great opportunity to get to know a professor better outside of class. Oh and also, all the rooms in the Mayfields are SINGLE ROOMS. I miss my roomie from last year loads but it's so nice having a space that I can call my own this year. And when I want some company, I can just go downstairs and hang out with my fellow lodge members in our beautiful living room or kitchen (yes, kitchen!).
I'm also loving being on a different side of campus and exploring new places. I recently discovered that I now live a simple, 10 minute walk away from Maggiano's (the best Italian restaurant in Nashville) so I'm in heaven. Oh and the Rec Center is right next to the Mayfields which is perfect because I'm going to need to work out after my multiple trips to Maggiano's.