To be a BEAN: Bettering Environmental Awareness and Nutrition
This school year, a group of ten students is completing a Mayfield project on campus to learn how to produce and consume food in an environmentally-friendly manner. The VanderBEANS first examined their own eating habits, and then educated themselves by watching and discussing several documentaries such as Food, Inc. and King Corn.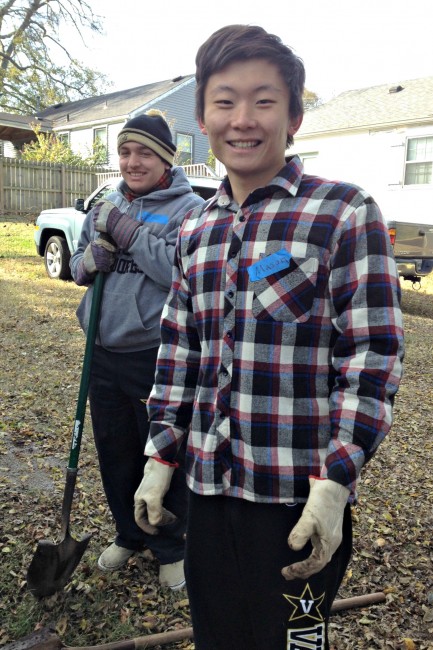 In October they spent one week eating only vegetarian food, and another being vegan. "During our vegetarian experiment, we definitely experienced temptation and cravings for meat. Some of us felt more tired than usual. On the other hand, those of us who were already vegetarians usually don't even think about eating meat," they said. Nevertheless, two people adopted vegetarianism and third became vegan.
"Animal agriculture is the single largest contributor to global climate change — 18 percent of the world's total greenhouse gas emissions, including methane from cows. Additionally, most animal products are produced on factory farms, where animals are overcrowded and subject to diseases and poor nutrition."
Over the past few months, VanderBEANS has served with several community organizations, including Second Harvest Food Bank, The Nashville Food Project, and Good to Grow, a local farm. These groups are working to address, in part, the issue of food deserts in Nashville. "Inside the Vandy Bubble, we have all the food options we could ask for. Campus Dining works hard to provide balanced and varied options, not to mention smaller cafés scattered around campus that cater to more specific dietary whims and restrictions such as Grins and Bamboo Bistro. Just off campus, grocery stores provide everything else, but away from campus and downtown Nashville, food choices are not always so extensive. Many areas surrounding greater Nashville have been termed 'food deserts' or 'swamps'— places with high poverty rates and limited access to supermarkets or grocery stores. For instance, 40 percent of inhabitants in one neighborhood in north Nashville live below the poverty line. Sometimes financial strain leads to choosing fast food." VanderBEANS wants more people to understand the issue of food deserts and swamps.
The capstone of their project is a mobile garden. They will install wheels onto a large plastic bin filled with soil, allowing them to follow the sunlight around the relatively shady quad near their house. Beginning in February, they will plant kale, lettuce, spring onions, English peas, snap peas, radishes, and spinach, and in April, they hope to have a banquet with food from both their garden and the local farmers' market.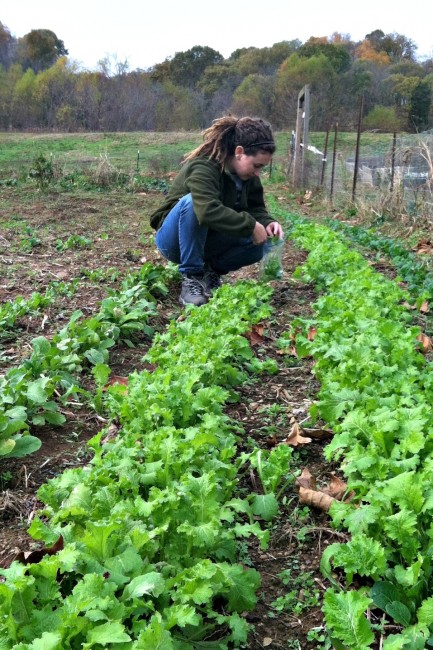 In their lodge, they also seek sustainability. Every week, two students empty recycling bins marked for aluminum, plastic, paper, and glass. On Sunday nights, they make healthy dinners and eat as a group.
One student, Julia Grabowski, spent the summer after high school working at a small organic farm, where she came to believe that it is wrong to ignore "the impact that our food choices has on the environment."
Brenna Garmon, who came to Vanderbilt from a small conservative town in Alabama, enjoys the Mayfield because it allows her "to connect with people who were as passionate as I was about protecting and conserving the environment." She is double-majoring in Evolution, Ecology, and Organismal Biology and Earth and Environmental Science at Vanderbilt.
Mason Chen and Yifan Zhu are both international students from China. Mason says that his mother is a vegetarian and he grew up eating her healthy Chinese cooking, but by being a part of the Mayfield he is learning about the environmental impact of food choices, including genetically modified and organic options. Yifan, as a future mechanical engineer, is committed to designing and building the mobile garden.
This is the metaphor that guides VanderBEANS: "Much like the maturation of a beanstalk, the first stage of our personal growth also involves creating roots: we intend to first educate ourselves about the various ways in which to eat healthfully and sustainably. Like the roots of a bean plant, our new knowledge will provide us with the necessary 'provisions' to carry out the rest of our project.
The next phase of our project involves spreading the word, as we educate others in the Vanderbilt community. Like a bean plant that sends out shoots, we will reach out to others as we undergo our own personal growth. Through this 'roots and shoots' stages of our project, we hope to grow as we learn from one another and research new ways to eat healthier and in a way that is more environmentally sustainable. As we grow veggies in our garden and discover new ways in which to approach nutrition, we also hope to educate other Vanderbilt students about how to improve their own dietary decisions. VanderBEANS means growth—growing vegetables, personal growth of our members, and (hopefully) growth of the larger Vanderbilt community."