#VandyVegetarian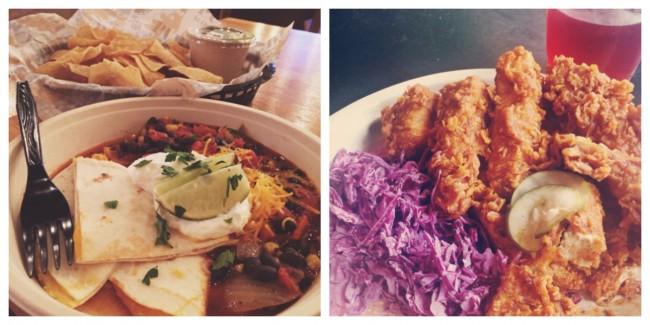 I present to you the alphabet of vegetarian campus dining! After having been around the block a few times (ie. West End, 21st, Hillsboro Village) and all over campus, I've compiled this list of my favorite dishes at various locations.
Everything can be bought on the meal plan as a meal swipe or with Meal Money through the Taste of Nashville program (indicated by *).
A | Apple PBG from Grins. Perfect for breakfast, lunch, and dinner, this is an apple-peanut butter-banana wrap.
B | Black bean burger from The Pub specials menu. Just say "yes" to veggie burgers.
C | Chili quesa from The Pub. Another special, this entree includes a couple of slices of cheese quesadillas with chili. Every time I come to the Pub, I also end up getting their waffle fries. Truly irresistible. That said, I never said anything about this being healthy, just meatless.
D | Campus Dining. This is a S/O to the dining staff who make an effort to accommodate vegetarian eaters. For example, they welcome comments about any feature of the food, and I've seen them make changes accordingly.
E | Western Egg bagel from Bruegger's. The Western includes egg, cheddar cheese, peppers, tomatoes, and red onions. Just order it without the bacon! Rainy Saturday mornings often find me sipping a cappuccino here, located on 21st across from Central Library.*
F | Floribbean night at Kissam Kitchen. The menu at the Kitchen changes every night, and Floribbean night typically features grilled corn on the cob with papaya-infused butter, black beans and rice, and baked sweet potatoes, as well as citrusy avocado salads and coconut and lime pound cake for dessert!
G | Grins is a kosher and vegetarian restaurant that accepts the Vandy meal plan, and it is honestly the veg* eater's haven. Their daily specials include hot and cold sides as well as soups and salads like Vietnamese slaw and Sriracha-honey tofu. My favorites from their regular menu are featured elsewhere on this list!
H | Hot tofu from Grins. Told you: this is a breaded-tofu spin-off of the Nashville staple. It comes with a thick slice of bread, purple coleslaw, and exactly three pickles. This is my soul food.
I | Indian night at Kissam Kitchen. The exact spread changes every time, but there are always protein-packed lentils, chickpeas, and saag paneer.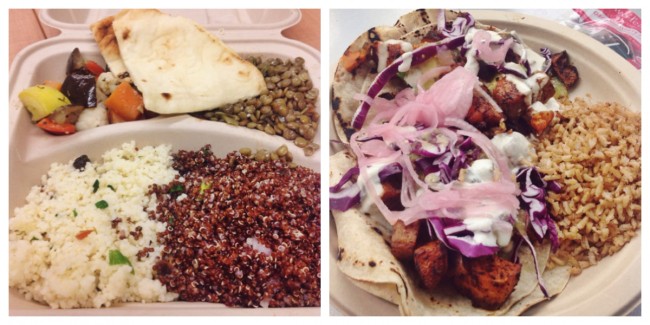 J | Juice bar at Sweet CeCe's. A brightly-colored shop in Hillsboro that has recently expanded from fro-yo (see "Y") to fresh-pressed juices and smoothies. I've liked all of the combinations that I've tried.*
K | Kosmic Karma Pie from Mellow Mushroom. Another restaurant on 21st (a good meeting point between Commons and main campus), and a new addition to the Taste of Nashville plan, MM is low-key casual with good vibes. The Kosmic Karma has feta and mozzarella cheeses, spinach, sun-dried tomatoes and Roma tomatoes with a pesto swirl (!!). And this is just one of many meatless pies on the menu.*
L | Salads from Leaf. This pizza/salad concept is located in New Rand, and my go-to custom creation is spinach with carrots, avocado, corn, black beans, edamame, cilantro, sunflower seeds, and chipotle ranch. Always chipotle ranch. Leaf is also key because it is one of the few places open on Main Campus on Friday and Saturday nights.
M | Mercury sandwich from Rocket Subs. Mostly for Towers folks, since it's in the basement of Carmichael Towers West, but it offers a sandwich with flame-roasted vegetables.
N | Nutella panini from Grins. If you like Nutella, this is for you. Add strawberries, bananas—enough said.
O | Omelette from Commons or Rand. The omelette is a weekend classic, and although I'm picky when it comes to eggs, I've always enjoyed the omelettes served at both Commons (last year) and Rand (this year). Pick from tofu, spinach, and a variety of diced vegetables.
P | Pho from Bamboo Bistro. Located in Alumni Hall, this Vietnamese concept also serves banh mi sandwiches and salads. But why would you get those when you can get pho? The veggie pho I like has tofu, extra tofu, cilantro, red bell peppers, grated carrots, chopped peanuts, lime wedges, and kimchi. Also: bubble tea.
Q | Black bean & corn quesadilla from The Pub. If The Pub were my closet, this would be my favorite outfit. It's served with chili-lime sour cream and salsa, and I always order it with guacamole on the side. The Pub also has one of the best atmospheres of any campus dining location.
R | Roasted veggie pizza from Pi. The sister to Leaf, Pi always has pepperoni and cheese pizzas, and features rotating special pizzas each day, one meat-based and one vegetarian. The vegetarian toppings include spinach, garlic, kale, onion, pistachios, etc., depending on the day. If you get a pizza from Pi, you can get one or two side salads from Leaf with the same meal swipe!
S | Sweet potato tacos from Grins. A newer addition to the regular menu at Grins, these tacos remind me of the huevos rancheros at Fido, which is, of course, a sister restaurant to Grins (both are owned by Bongo Java). See the picture above!
T | Tabouleh wrap from Suzie's Food for Thought a.k.a. the library café. Suzie's is a cozy nook with indoor and outdoor tables for studying and chatting. While the wrap is my favorite entrée, you can also get soup, pasta salad, leafy salad, sandwiches, and other wraps. This one is basically tabouleh in a hummus-smeared wrap, and it's good cold or warm from the panini press.
U | U should def help me out… by exploring all of the vegetarian options campus has to offer, and sharing your favorites in the comments! I'd love to hear what you're looking for in a good vegetarian meal.
V | Vegetarian night at Rand. This is one of many special events hosted by Campus Dining, and this particular night featured basically all the vegetarian food you could carry. Curry, panzanella salad, lasagna, mango-BBQ tofu, and more.
W | Superfood wrap from Grins. The superfood is a staple. I usually get it unwrapped, because then the textures of the fresh vegetables and quinoa and the flavor of the herb vinaigrette take center-stage. GET IT TODAY.
X | Dark chocolate from Munchie Marts. The letter "X" always requires a bit of creativity, so today I'm going to teach you a new word: xocolatl, the Nahuatl/Aztec word for "bitter water." (Maybe it's new to you, or maybe there are some other hardcore chocolate fans out there?!) As far as I know, every convenience store on campus offers gourmet chocolate bars as side options. My favorite brand is Chocolove xoxo: raspberries or orange peel in dark chocolate, anyone?
Y | Frozen yogurt from Sweet CeCe's. I'll let Claudia tell you all about her love for fro-yo.*
Z | Zumi sushi. I've only been once, and I ordered the green sesame sushi with avocado, asparagus, carrots, cucumber, kanpyo, tofu, peanuts, and miso ginger sauce. Start with the sauteed garlic-soy edamame and finish with the mochi balls.*
TL;DR Vandy is a great place for vegetarians! And if you want to share a great vegetarian meal on or off campus in the Vanderbilt/Nashville area, just tag your social media with #VandyVegetarian!