The Bestest SeniorFest
So many fun things happen on Alumni Lawn.  From free Bradley's Curbside Creamery ice cream on Wednesday to the exciting opening Founder's Walk, Alumni Lawn is the place to be.  Plus, they have perfect grass, so it's great for picnicking and corn-hole and all those nice things.  Oh wait, we just did that at the Seniorfest!
SAB threw us seniors a wonderful little event called the Seniorfest.  My roomie, H., E., and I hustled over to Alumni after our Blair classes.  We checked in, grabbed a drink of choice, some nuggets or a sandwich from a fast food great called Chick-fil-A, and some yummy SunChips.  Settling on a colorful picnic blanket set-up on the lawn with some friends that we happened upon, we feasted on our spoils of seniordom.  Good company, live music, and a lovely sunset; oh, what a perfect evening.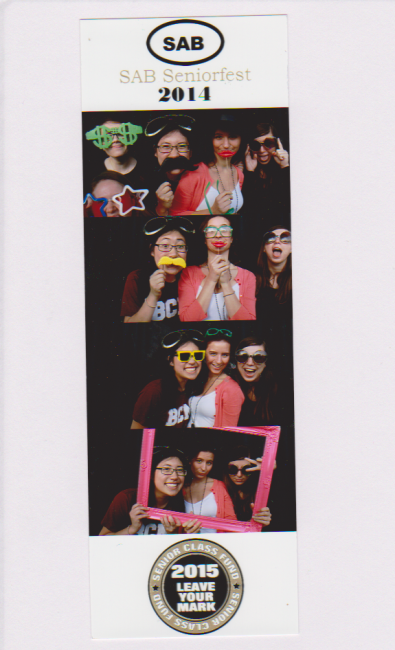 During this prime time, I pulled out a stack of movies that I had checked out from the Central Library.  S., M.K. and I have a weekly Thursday night meepover (movie + sleepover), and with the completion of a three-installment viewing of "The Incredibles," we needed to pick a new one.  You're up, "Monster's Inc."
After this decision was finally reached, a few of the kids pranced off to play corn-hole.  It was intensely competitive, but all in good fun.  When D. and H. finished their round of cornhole, I tried to drag them towards the photobooth.  Silly D. squirted me with his water bottle.  Of course in retaliation, I grabbed my water and chased after him, but he ran, ran, ran back to Towers.  Yea, keep running, dude.  H. was laughing at me and mentioned, "All we have to do is dump you in an ice bath," referencing the time that he and D. picked me up and unceremoniously threw me into a huge black tub of ice and sodas on Move-In Day, so I threw some water on him.  Tehee.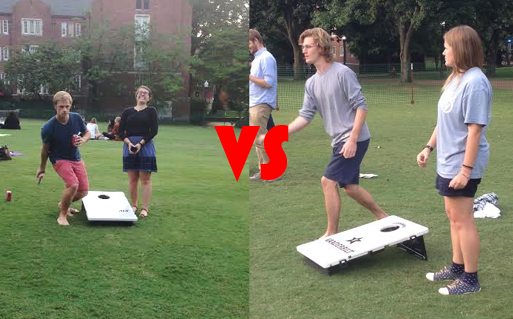 My suities and I, plus our friends M. and S., continued on towards the photo booth.  Not going to lie, we got some pretty adorable pictures.  All the props were super fun, and those three seconds in between each shot to somewhat figure out a different pose was incredibly amusing.
Sigh, I suppose this SeniorFest on Alumni Lawn is a foreshadowing of the graduation that will happen in the exact same space in May.  But until then, I shall continue to enjoy the free food and free t-shirts and all free things!