Teaching at Peabody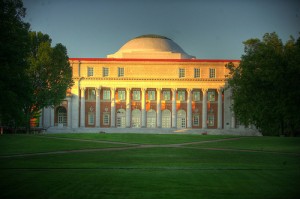 I have recently realized just how little I knew about what it took to become a teacher before I came to Vanderbilt.  I did not know anything about the steps that were taken, and the different nuances you could receive in your degree.  I had never had anyone spell it out for me, so I wanted to give all potential future Peabody-attendees a summary of what to look forward to in the upcoming years…
Picking your 2nd major – all education majors at Peabody have to have a second major.  If you are in secondary education, this must be either Mathematics, Science, English, or a Social Studies major.  If you are studying elementary or early childhood education, your second major can be whatever you like.
Choose your classes – you have a liberal core amount of classes you must take in order to graduate.  These require you to complete classes in all academic fields, somewhat like the AXLE requirements in the School of Arts and Sciences.  However, the classes allowed for each requirement varies drastically between the two schools, so double-check your requirements before choosing classes!
Fingerprinting – you need to get fingerprinted in the state of Tennessee if you want to work with minors under the age of 18.  This costs $50 and must be done before you can complete any practicum work in the schools.
Practicum experiences – these work in conjunction with a class.  For instance, you have a Social Studies methods class and a social studies practicum.  During this time period, you work in one of Nashville's schools, observing the teacher and completing practice teaching experiences.  You will plan lessons, evaluate on your progress, and gain practical experience.

A Vanderbilt student learns CPR.

CPR/First Aid – in order to get your license, you need to take a class to be certified in CPR or First Aid.  You must do this within two years of graduating.
Endorsements – you can choose to add an endorsement to your teaching degree.  For instance, I have added the English Language Learners endorsement to mine, which means I can also teach ELLs from grades K-12.  Vanderbilt also just added a Special Education endorsement that looks very interesting!  These require extra classes and practicum experiences.
Task Stream – This is a service that holds your work to kept Vanderbilt accredited by the Southern Association of Colleges and Schools, the National Council for Accreditation of Teacher Education, the Tennessee Department of Education, and the National Council of Teachers of English.  It also will function as a dossier of your teaching philosophies when you apply for jobs.  The cost is about $100 for all four years.
Screening I and II – you are evaluated by the department to see whether or not you are able to move on to student teaching.  This is done by examining your practicum experiences and how dependable and professional you were, in addition to what your attitude is towards teaching.  You must have achieved a set grade-point average (2.5) and have completed all required courses.
PRAXIS Tests – these are tests which are specific to each subject area that determine whether you are able to be licensed in teaching or not.  This is done externally, typically during the summer between your junior and senior year.  Each test has a required fee and your results will be mailed to you (somewhat like the SAT or ACT).
Student Teaching – you work in two different schools, each for half a semester, teaching the entire class.  The placement will be based on your teaching level and endorsements, where possible.  Your teaching will then be observed and evaluated.  This is typically done spring semester of your senior year, but if you can put in a request to do it in the fall.
I hope this helped clear up some confusion–I know it took me a while to learn all this!
…Until next time! :)