Melo Cyrus
Perhaps even more daunting than the prospect of imminent papers and finals was The Melodores' annual winter concert. The couple of weeks leading up to (even Thanksgiving break, to an extent) had been rather taxing, to be honest, and juggling rehearsals and classes was becoming increasingly difficult.
I was also, however, incredibly excited. Our practices overflowed with verve and anticipation, and we had not sounded better. Our theme had been generally well-received and people were excited to see how we'd tie it in to our performance. In the meantime, I was getting on top of my other assignments and commitments, having just gotten out of an epic rumination about my mother for a nonfiction memoir writing workshop, and on the cusp of an exploration of monstrosity in early British literature (which sounds cooler than it is, but I get to dissect Grendel, who is arguably the greatest bad guy in the history of British literature).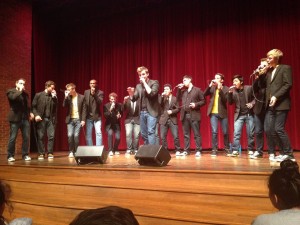 Concert night was upon us at last. The house was full and Tongue N Cheek (our premier improv comedy troupe) were poised and ready to pounce for a killer intermission act. I'm so glad that we were able to partake in such a collaboration, which entailed, among regular improv games, musical and sound effects games that, besides being insanely fun, bridged hitherto uncharted gaps between two very different performing arts groups.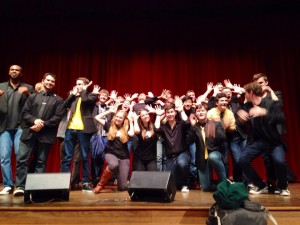 I'm still reeling even as I write this (and probably will for the next few days), and I look forward to future unorthodox VPAC (Vanderbilt Performing Arts Council – the umbrella community of all performing arts groups) collaborations!