I'm Gonna Pop Some Tags
This semester, I had the opportunity to attend my first-ever sorority date party with my dear pal, Lauren, a member of Alpha Chi Omega. What's all the hype with Greek date parties, you ask? Here's the two-cents you've been looking for, from a non-Greek, costume-loving, incoming junior.
The theme of the Alpha Chi date party we went to at the end of April was "Thriftshop", hence the catchy title of this blog. Typically, girls in sororities invite boys to these date parties, but I love to dance and don't mind making a fool of myself, so Lauren made an exception and penciled the event into my calendar a month in advance. (I'm in high-demand you see; my agenda is out of control. Just kidding. Much of my time is spent watching reruns of The Office and drinking chai that I make in my microwave.) Needless to say, I jumped at the opportunity to dress up in a ridiculous manner.
Many people go out to eat before date parties, but I was already committed to going to the last worship service of the semester at the BCM. So, Lauren picked me up behind the BCM right before the party started, and I was mortified to see that everyone else she had picked up did not "go all out" in their attire, the way I did.  I was sporting a Daffy Duck tee-shirt and a denim vest with denim shorts and a denim sunflower hat. Everyone else took the "Thriftshop" theme as an excuse to dress in slightly mismatched but still adorable articles of clothing. In short, I looked like a fool, and there is photo evidence.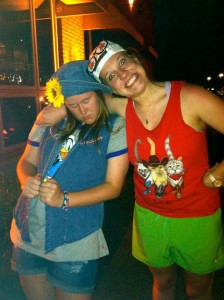 The date party was at the Hard Rock Café downtown, as it is pretty customary for sororities to have date parties off campus at bars and restaurants.  Alpha Chi reserved a private room on the second floor that was attached to a cool porch thing overlooking the city, which was awesome. I've gathered that one of the main reasons for having date parties is to take lots of selfies and group pictures, complete with sorority squats, so the porch was a prime location for that.  Two DJs from Vandy played obscure mixes of dub-step music, so we danced for a few minutes before we were drawn to the table with chips and spinach dip.  Julianne, also an Alpha Chi, took our very short, mutual friend Jodi as her date. This was perfect because Jodi has some of the best, uninhibited dance moves I've ever seen. We connect on that level.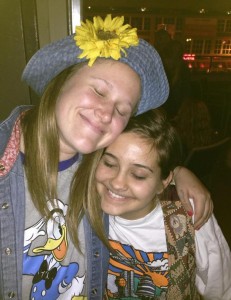 Sometimes, especially during finals season, it is absolutely necessary to throw on hideous costumes and crazy-dance the night away. I can finally check sorority date party off of my enormous and imaginary college bucket list.