I love the contrasts Rites of Spring brings
This weekend was tons of fun, thanks to Rites of Spring :)  I loved going last year as a freshman and staying the entire time, but I think I enjoyed popping in and out more this spring.  The entire atmosphere of the event is pretty relaxed, like your typical music festival—the bands perform enthusiastically, people bring coolers and sit on picnic blankets, and there are several food trucks and tables where people can buy T-shirts, drinks, or food.  I even climbed a tree near the edge of the closed-off section of alumni lawn to sit and listen to the music with pink flowers in bloom all around me.  To be honest, I kind of felt like Mulan in the cherry blossom scene. :)  If you want another perspective on Rites, check out Priyanka's blog about working there with the Vanderbilt Programming Board!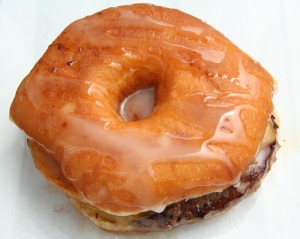 The food available at the festival is always my favorite part because you get tickets on meal plan and get to try some of the weirdest things!  Friday I ate a hot dog covered in doughnut dough from a themed food truck while my boyfriend ordered Korean BBQ Tacos (and they were delicious!!).  Of course, this is also one of the few times when Chick-fil-a is on campus (and who doesn't want to take advantage of that?).  But my favorite weird and delicious food sampling was a Krispy Kreme cheeseburger!  It was literally a mouth-watering cheeseburger stuffed inside of the traditional Krispy Kreme glazed donut.  It might sound heart-stopping and strange, but it was absolutely one of the best parts of my weekend! :)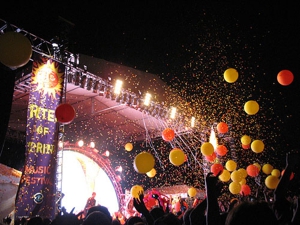 I loved being able to come and go to the festival depending on the bands that I wanted to experience.  When you enter, you get a colored 'Rites of Spring 2013' wristband so that you can come back without getting your ID and ticket checked again.  This meant that I was able to relax on the lawn for a while, listening to The Apache Relay's calmer tones and still be able to leave to play Starcraft, talk with friends, go to my roommate's birthday…basically, I could incorporate anything else I wanted to do in between sets!  Then, when I returned in the evening, the concert's atmosphere had completely changed.  The multi-colored lanterns were lit, bathing the grounds in a festive light.  The bands were typically more rock-heavy and a crowd of students clumped up near the stage instead of sitting on scattered blankets.  I was able to have the best of both worlds: a calm afternoon concert and a rocking nighttime one. NeedToBreathe provided a fabulous conclusion to the concert.  Their final song was the perfect way to close my Rites of 2013 experience.  The band collaborated with Drew Holcomb & The Neighbors to perform an earth-shaking rendition of Ben E. King's Stand by Me. The musicianswere so passionate about their music during the song that it was contagious!  Everyone was singing along, dancing, and holding their loved ones close.  It was a fabulous conclusion to the event. :D
…Until next time!