Cabaret!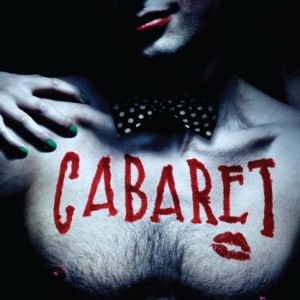 This past week has been a crazy mess of midterms, lack of sleep, and caffeine.  That's why my roommates and I decided to end it on a glorious note.  Tomorrow I'm driving them to the airport at 6am, but tonight we went to go see Tennessee Reparatory Theatre's production of Cabaret.
First thing you need to know about me is that I'm a musicals kid.  I have loved them ever since I satiated my toddling song-and-dance needs with animated Disney features.  Now, my tastes have matured quite a bit, as evidenced through my favorite musical: RENT.  My life is so intertwined with musicals that I shushed my roommate's visitor when he talked during the Les Miz performance as we watched the Oscars.  So, needless to say, it takes a lot to really impress me in the musical field.  Don't get me wrong, I love all musicals—even the superficial ones most people hate.  But it takes something special to get me really revved up about a show, and tonight I felt that passion once again.
The three performances I have gone to see at the Tennessee Rep have all been magnificent thus far—All My Sons, Clybourne Park, and now Cabaret.  Their cast is based here in Nashville, unlike TPAC's visiting Broadway shows, which makes you feel a bit more of a connection with the cast.  The theatre Tennessee Rep performs in is also much smaller than that of TPAC, giving their shows an intimate hometown-theatre feel.  Best of all, they offer discount student rush tickets, of which I feel not nearly enough college students take advantage.
Tonight's show has been pushing boundaries and provoking thought since the 1960s.  It tells the story of a cabaret in Berlin just prior to the rise of Hitler and the Nazis.  The entire show is full of glitz, glamor, and fun, but underneath it all lurks an all-encompassing darkness.  The show's direction was spectacular, pulling you along on the apparently fun ride until you realize that it's actually driving you towards the darker side of hell.  The cast were incredibly talented both musically and theatrically, amazing me with how they embodied their characters so convincingly and heartbreakingly throughout the show.
It was a glorious production, and being here in Nashville has given me the opportunity to see some truly fabulous ones. :)
…Until next time!