I Might As Well Be Living in The Sound of Music
I had no idea that living at Vanderbilt would entail having extremely musical friends, but I love it! Every night I half expect my friends to bust out in a rousing rendition of "So Long, Farewell" from The Sound of Music, but unfortunately it hasn't happened yet.  Several of my friends are in the Blair School of Music and are constantly practicing their instruments, but spring semester has brought with it the season for recitals and concerts, so I can finally see the fruits of their labor.  All of my 11:11 wishes to be able to sing or play the harp have been for naught, so for now, I'll be content watching my friends do amazing things with music.
The first recital I went to was a harp ensemble that my friend Trevor performed in at Blair. There are seven Harp majors at Vanderbilt at Blair, and Trevor is one of them, so I definitely had to check it out.  (Also, Trevor is from Dallas, and we Dallas/Texas folks have to stick together.) The concert gave me chills, it was so good.  Most of the pieces were pretty lyrical and classical-sounding, but in the last song, the harpists threaded scarves through the strings in the harps to mute each note and give a more stacatto sound.  I'm pretty sure my jaw was wide open the entire time in AWE.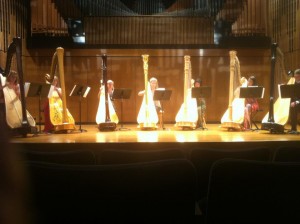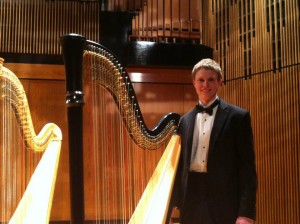 Next, I attended Ann Yeh's Freshman Cello Recital at Blair, and I was so impressed.  Ann is actually a new Inside 'Dores blogger, hooray! A lot of my friends that are in Blair always talk about their theory classes and "juries" but I never actually get to hear them play, so I had no idea what to expect.  A large group of our friends gathered in a tiny performance hall in Blair, and we clapped wildly when Ann came out in her fancy, floor-length purple dress with her cello.  The whole second half of the recital, after the intermission, was memorized, and I never heard a mistake.  A few of the songs were ensembles with Ann's piano and clarinet friends in Blair, and those were my favorite. Musicians are wonderful, I've decided.  In addition, Ann is a spectacular baker who always magically has baking supplies in her dorm, so she baked a huge variety of Pinterest-inspired confections for her reception afterwards that disappeared almost instantaneously.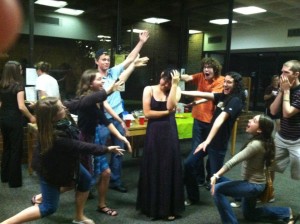 Later that week I attended a concert for Vanderbilt Variations, one of the many fabulous co-ed a-capella groups on campus, to watch my friend Mandie sing her heart out.  The show, which took place in the Hillel Center/Grins, was a crowd pleaser with selections from Cowboy Take Me Away by the Dixie Chicks to For the First Time by the Script.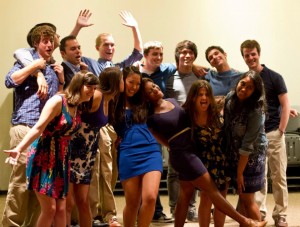 Right after Mandie's concert, my Vandy posse and I hopped in a few cars and headed over to the Red Rooster to hear our friend Hunter play bass in his band with Luke Bellet.  As freshman, we all received attractive black X's on our hands, and we were quite a raucous crowd for our Floridian friend, swing dancing to songs that were definitely not swing dance material.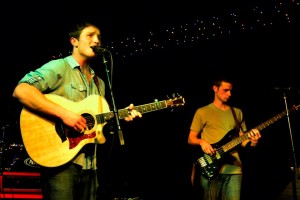 On the other hand, I am not so talented musically.  However, my friend Mary Kate and I DID feel like we qualified for the "Untalent" Show at the BCM a few weekends ago, so we submitted our entry as soon as we could.  Our contribution was an interpretive dance to Sara Bareilles's King of Anything, complete with ballet, hip-hop, jazz, lyrical, and Indian dance.  It was perhaps the most ridiculous thing anyone had ever seen. My pink cutoff overalls, flower hat, and duck tie paired with Mary Kate's lion kimono shirt, flower headband, and duck tie turned heads.  We're used to attention from doing silly things by now.  Our dance included some paso doble and salsa moves and even a lift!  It goes without saying that we were a crowd favorite.  We even won the prestigious award, "Least Untalented," for which the prize was two clear clothes hangers.  Maybe I can't astound on the cello or sing in tune on a regular basis, but perhaps I do have some talent after all!