Formal Weekend
In my opinion Formal Weekend and Rites of Spring Weekend are the two best weekends of the semester, no question. Rites will be blogged about next week, so for now I'm gonna focus on Formal Weekend.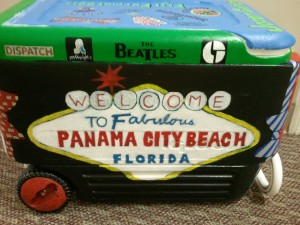 Formal Weekend is the weekend that the fraternities at Vanderbilt have their "formals." "What does that mean?" you might ask. Well firstly, I had zero idea what a formal was until I went on one my first spring of my freshman year. Formals, are a weekend long trip, by fraternity, to locations such as Panama City Beach, FL; Pensacola, FL; Gulf Shores, AL; Myrtle Beach; Charleston, SC; etc. – basically head to a beach town.
Each guy in the fraternity invites a date for the weekend. As a result, the date's responsibiity is to get a cooler, decorate it, and fill it with beverages for the beach. The girls get really into decorating the coolers, decorating with all different painted images and sayings, and to be honest I can't complain.
Typically the formal buses (coach buses filled with everyone going) depart around midnight that Thursday, and the drive by bus takes anywhere from 8 to 10+ hours. By the time you get to where you are going, it is time for check in at the hotel. You check in, drop your bags in your room, change into beach wear, grab your cooler and head to the beach for a day of fun in the sun.
On most formals, you usually have a "formal dinner" one of the nights, where you get all dressed up and have dinner at a nice restaurant. Other than that, days are spent on the beach, and activities are found for the nights. Sunday morning you pack up and head out before the hotel can charge you for an extra day, and come back to school for the push to finals. Luckily, this year, Rites of Spring is the weekend after my formal ;).