Why I Chose Vandy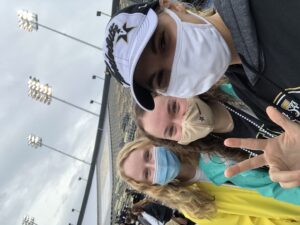 I never thought that a top 15 school was going to want me to attend as much as I wanted to attend it. But then I visited Vanderbilt. Walking through Vanderbilt's campus for the first time the summer before my senior year of high school was overwhelming. It was easy to believe that the place where I was visiting was one of the most well-known and esteemed in the world. For one thing, campus is a beautiful arboretum, which makes it feel like a state park. The old buildings give it a prestigious feel and the fact that it is in Nashville (a much bigger city than my small Indiana hometown) made it seem like even more of a first-class university.
When I left campus after my first visit, I was slightly intimidated by how amazing Vanderbilt University sounded; still, I knew that I wanted to apply. Later on in my senior year, I applied for a Naval ROTC scholarship that required me to list my top few choices. Since Vanderbilt was a reach school for me, I listed it as my second choice and an Indiana school as my first. I was blessed to receive the scholarship, and the very first person who contacted me was the NROTC recruiter from Vanderbilt. I was pleasantly surprised that he would take the time to reach out to me and schedule a phone call. This was before I had even finished my application to Vanderbilt. What resonated with me the most from our conversation was how much he expressed to me that my specific skills, experiences, and personality were desired at the unit. He wanted me there.
In January of 2020, I came back to Nashville for a visit to the NROTC unit as well as a stroll around campus. I was overwhelmed by how many students reached out to us. We heard lots of "Welcome to Vanderbilt!" and "Can I help you find where you're headed?" and "You should come here." A couple students walked with us, and I received welcoming smiles from nearly everyone I passed. I hadn't even been accepted yet, and I already felt a strong sense of belonging. The intimidation factor that I had prior to my second visit disappeared. All I knew then was that I couldn't imagine a better place to spend the next four years studying, training for the Marine Corps, making friends, and developing mentally, physically, and spiritually as I chase my dreams.
And after my first semester as a Vanderbilt student, I couldn't be more confident that I made the right choice. I have made tremendous friends, taken engaging and rigorous classes, and developed as a person and leader in NROTC. Vanderbilt is a place where everyone wants everyone to succeed. Yes, the students here are certainly exceptional. But there is more collaboration than competition, and this place is such fertile ground for the growth and success of students pursuing their passions. Vanderbilt is so much more than its rank. And you should come here.