Being a Non-Greek Life Student at Vandy
In movies about college, why do they always show the sorority girls as the hot, popular it-girls? And that fraternity brothers rule the school? Totally false advertising. I'm here to tell you that at Vanderbilt, that is definitely not the case. Not being in Greek Life here is not the end of the world by any measure.
At Vanderbilt, Greek Life is not your identity. Because of Spring rush, Vanderbilt gives students a whole semester to get acclimated to being at college before jumping into Greek Life. I think this is a great system because it allows people to establish friendships and join extra-curricular activities before deciding if they want to participate in Greek Life. Also, for girls, Panhellenic Preview Day allows them to talk to sisters in every sorority and decide if they could see themselves in any of the sororities.
If you don't decide to join Greek Life, I promise it isn't a detriment to your social life. Something that I really like about Vanderbilt is that being in Greek Life is like having another thing to add to your extra-curriculars. It doesn't become all encompassing, and it doesn't stop you from participating in other things. There are definitely benefits to joining Greek Life, but if you don't, there is nothing in particular that you are held back from. You can still attend registered events held by fraternities, go to date parties with people who are in sororities or fraternities, and hang out with your Greek Life friends without feeling like the odd one out.
I have a close friend group of eight girls, and out of the eight, I am the only one that is not in Greek Life. When all my friends were getting initiated into their sororities, I worried that I would suddenly be excluded because I didn't understand what it was like to be in Greek Life. But honestly, I usually forget that my friends are in Greek Life. While it is a big part of their lives, it isn't the main part, and I never feel like an outsider just because I'm not in Greek Life.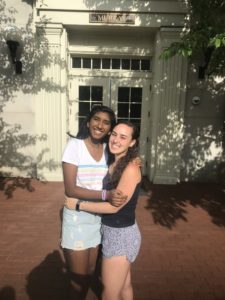 If you decide not to join Greek Life and are looking for other activities to do on campus, there is an endless amount of clubs and sports you can join. Intramural and club sports are a great way to meet people, exercise, and still get the feeling of being part of a group. Joining clubs that you are passionate about, or just ones that sound fun or interesting, are a great way to get involved in campus and meet people with similar interests who you might not have otherwise met. Your options are endless. While Greek Life can be great, it isn't your only option. I promise.