"They Answer I Present": Why Vanderbilt (Part 4)
Different people have asked the question of "Why Vanderbilt." During a workshop held by the Career Center last week, a panelist representing a graduate program was interested in the attendees' ideas about the question. In my interview with Yufei Yan, I was curious about her thoughts on this two-word question. When I met my secondary school friends, they wanted to know why I chose Vanderbilt. The question may follow people from the application season throughout their years at Vanderbilt, and to life after graduation. Let's delve into responses from members of the Vanderbilt community, including a recent alumna. Enjoy!
I. The answer of a recent graduate
Year: Class of 2019

Majors: Economics and Child Studies

Minor: Corporate Strategy

Hometown: Jinan, China

Current occupation: Investment Banking Analyst
"Vanderbilt is a place that supports students' growth in all ways possible. If you know the type of person you want to become or the type of life you want to build, Vandy is a place with resources that will help you make the dream a reality.
There is a lot of flexibility in balancing students' professional development and academic interests as well as personal development in general.
Vanderbilt is a place that can give you depth. The people at Vanderbilt and the enriching and challenging conversations that I have had with students from various cultural backgrounds are rewarding experiences that benefited me in ways I never thought possible."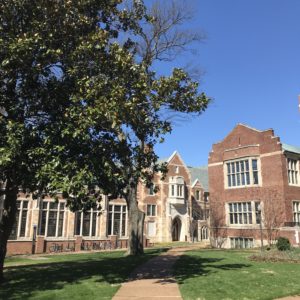 II. A junior's response
Major: Human and Organizational Development

Hometown: Franklin Lakes, New Jersey
"I chose to come to Vanderbilt because of the balance between challenging academics and the fun community of like-minded individuals. Vanderbilt stood out to me because of its incredible location in Nashville, a rapidly growing city that is full of love, opportunity, and lively experiences. Vanderbilt was a clear choice for me because I knew that I would be pushed to my full potential academically, while also finding unique, exciting experiences within the city and the Vanderbilt community."
This post is the concluding piece of the series in Fall 2019 (告一段落). I plan to write more posts of this theme in Spring 2020, especially during the transfer application season. I appreciate that my interviewees took their precious time to share their ideas. I recommend pondering "Why Vanderbilt" because the question may inspire one to explore Vanderbilt and to record experiences. Last but not least, individuals with different backgrounds, interests, and goals all chose the same university. Isn't that fascinating?