A Versatile Engineer: Yufei Yan
As a student of College of Arts and Science, I was curious about student experience in School of Engineering. Therefore, I interviewed my friend Yufei, who would spend the spring semester interning at Facebook.
Part I. "I am"
Name: Yufei Yan
Year: 2020
Hometown: Nanjing, China
Majors: Computer Science, Mathematics
Extracurriculars: Lunar New Year Festival (Martial Arts), VandyHacks, Vanderbilt Student Volunteers for Science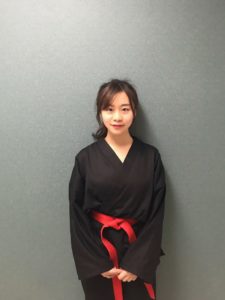 Part II. Academics
What is your favorite course at Vanderbilt?
It's really hard to pick one out of so many fun classes with awesome professors. Algorithm taught by Professor Spinrad is the most recent one and relates to my major. I also enjoyed many other courses in various fields, such as Music Literature, How to Make Almost Anything (mechanical engineering), and Ceramics.
Talk about your Phi Beta Kappa Award paper.
It was the final paper for Dr. Romero's First year writing seminar, Love, Violence and Surveillance. The course focused on German literature and really broadened my view. With or without the award, this writing seminar offered rewarding experience as it gave me the opportunity to take a glance into liberal arts as an engineering student.
Describe your engineering project related to Thistle Farms.
Thistle Farms is a social enterprise doing charity for women. The project was part of ME3890: How to Make Almost Everything, by Professor Galloway. We worked in a group of three and ended up creating an adapted sticker gun which would enable workers to quickly and accurately place stickers on containers in Thistle Farms assembly line. The design and prototyping process was challenging, but it's all worth it when the workers at Thistle Farms showed their excitement and affection for our adapted sticker gun.
Part III. Internship
Discuss your experience finding the internship.
With all the coursework going on at the same time, it's been a stressful time for me writing resume, applying for internship, and having interviews. Multitasking ability is crucial.
Did career resources on campus help you? If yes, how?
Yes, the career center was supportive and helped me revise my resume. They also have workshops and mock interviews available to the students. I'm also grateful that my advisor and professors from engineering school accommodated me for spring internship at Facebook.
What are your suggestions about internship opportunities?
Be prepared and proactive, but don't forget to relax!
Part IV. Vanderbilt
Why Vanderbilt:
Professors here are supportive and dedicated.
One Piece of Advice for Commodores Sharing Your Academic Disciplines:
Be brave and try new things. Take initiative and be responsible for yourself. As the CS program here offers a lot of flexibility in electives, utilize the opportunity.
Two Suggestions for International Students: It can be a tough time when you first get here. It's OK to be not OK. Then things will get better, and overall Vandy is a lovely place with lovely people.
Anything Else You Want to Say: Enjoy :)
When I was interviewing Yufei, I was impressed by my friend's diverse repertoire: programming, writing about literature, designing sticker guns, performing martial arts, making ceramic works, and more. The experience of the versatile engineer is insightful. Last but not least, happy birthday to Yufei!