The Life of a Student Intern
If you read my last blog, you know my summer was full of applications and interviews, and a lot of disappointment. But hey, if at first you don't succeed, try, try again. Eventually my trying paid off! After a lot of hard work, I am proud to say that I have officially graduated from student to unpaid student intern.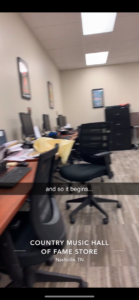 This semester, I'm interning at the Country Music Hall of Fame and Museum. I work within the Development department doing a myriad of different jobs. There is no typical day for me- every day I go in to work I do something new. The Development department as a whole mainly focuses on existing members of the Museum, and how we can do our best to ensure that they are well taken care of and want to continue being members in the future. Beyond that, my department also does research for grants to keep the Museum running, find and procure relevant artifacts, and help fund the educational programs that see over 100,000 kids a year. As an intern, my duties include maintaining the member data base, assisting in research on foundations, and escorting VIP guests around the Museum. Although this internship wasn't exactly what I was planning on doing when I set out on my summer of applications, I am extremely grateful that I have gotten the chance to work with such an amazing institution.
One special perk of my internship is that I get to work major events that the museum is hosting. In September, I was able to work at the new exhibit opening at the Museum. Performers like Jason Isbell and Alison Krauss performed, and many other prominent names in both the music business and Nashville in general were there as well in honor of the opening of the exhibit. In the coming month, the Museum will also host its annual Medallion ceremony where the three newest members are inducted into the Country Music Hall of Fame.
At first, I thought interning while being a full time student was going to be too hard to juggle. My internship has a minimum requirement of twenty hours a week, and I'm also in twelve credit hours. Although I was worried about how being so busy would affect my academics and social life, I have found that this semester has been very rewarding for me. Not only have been I been able to keep up with classes and friends, but I'm also working towards figuring out what I want to do in the future.
So my advice to all you possible future 'Dores is this: It's never too early to start applying for internships, and who knows, you might just find what you love.
P.S. Go visit the Country Music Hall of Fame! It's free with your commodore card, along with a bunch of other really cool stuff!