New Year, New Food!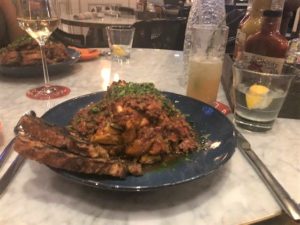 As always, every year Vandy puts new restaurants "on the Card" (the Commodore Card), which always makes returning to school a little more exciting. However, over the summer and over my first few weeks back on campus, I have discovered some new, amazing restaurants both on and off "the Card!" Here are a few of my new favorites:
Mane & Rye Dinerant
This place just opened in June, but it has already become a favorite of mine. Located on the 1st floor of the Hutton Hotel on West End, this gem is tucked away inside for a great, upscale night out. They have a $6 burger special on Friday and Saturday nights for a cheap night out with friends, and there's also live music on Thursday through Saturday evenings, which definitely fits the Nashville music scene. They also serve breakfast all day along with dinner food, so if you want pancakes at 8pm on a Wednesday, you can definitely get them! In addition, based on what night you go, there are different dinner specials. I tried the lasagna, and it was delicious and a huge portion for plenty of leftovers! Oh, and did I mention their free pinball machines? Truly a great way to relive your childhood arcade days.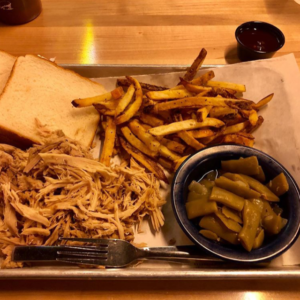 Martin's BBQ
One of my favorite restaurants from this summer! The newest location of Martin's is located on Elliston Place right behind the Chili's on West End, which is super convenient for students who would like to walk there. Their barbecue is some of the best I've ever had, and my parents love to eat here whenever they come to visit! Definitely try the Whole Hog Tray and ask for extra Sweet Dixie sauce!
Donut + Dog
This small but cute restaurant is tucked away over in Hillsboro Village and has bright blue picnic tables outside that are hard to miss.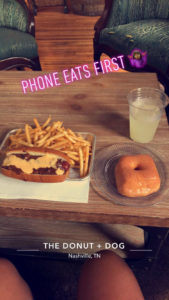 My first thought was that a hot dog and donut are an odd combination, but I quickly changed my mind after eating here! If you visit early in the afternoon, then you can get the Power Lunch, which includes a hot dog, fries or chips, and a drink; a sweet deal! Every time I go, I get the Chili & Beer Cheese hot dog. Also, they make all of their donuts from scratch, and they are fantastic!
I'm pretty traditional, so the Dirty O.G. is my favorite donut, but some of the other flavors are pretty unique, such as the Southern Belle which has peach jam and pecans!
Sun and Fork
This restaurant is on the Card and located a few doors down from the Barnes and Noble on West End. This place is perfect if you love breakfast food since it is served all day!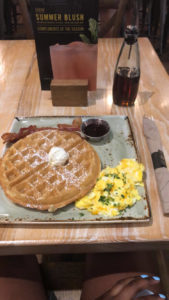 The waffles are my personal favorite, and their fresh-squeezed orange juice is great.
I like coming here sometimes to do homework to get a change of scenery, and I have found that I am much more productive here than in my room.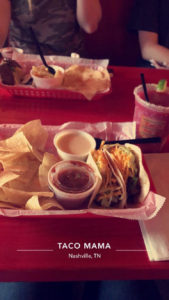 Taco Mama
Also newly added to the Card, this is truly my new favorite Mexican restaurant in Nashville. This place is also located in Hillsboro Village and is delicious! The food is reasonably priced, and the "Build Your Own" items come with unlimited toppings and one side, which is a pretty sweet deal! My personal favorites are the ground beef tacos and the chicken quesadilla.
I hope that you find at least one restaurant on this list that intrigues you and that you love it as much as I do! Of course, if you have absolutely any questions about what I order at these restaurants or some of my other favorite places in Nashville, feel free to email me at ashli.alexander@vanderbilt.edu! I always love to talk about food!