Fairs at Vanderbilt
In the Japanese history course I am taking this semester, we went over carnivals at Edo—ancient Tokyo—which featured numerous shows (misemono). The discussion of carnivals reminded me to take a look at fairs closer to me with respect to time and space. Vanderbilt has a vibrant culture of fairs which inform and entertain. Here is a survey of fairs at Vanderbilt I attended during the first few weeks of the fall 2019 semester.
Student Involvement Fair
Usually referred to as "org fair," the Student Involvement Fair takes place annually at the Recreation and Wellness Center. Over 300 student organizations and campus departments set up trifolds and banners, offering a wide range of free giveaways. At the entrance, one can get a free tote bag with a table map and a list of participating organizations. The fair is a great opportunity to explore opportunities on campus and connect with other students.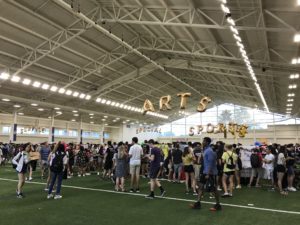 How did I learn about Inside 'Dores? I went to the org fair last fall, stopped by the Inside 'Dores table, and talked with Ashli and Deniz. The Student Involvement Fair made my wonderful Inside 'Dores experience possible.
Service Organization Fair
For people interested in service, going to the Service Organization Fair—held by the Office of Active Citizenship and Service in late August—is valuable.
I have always been passionate about service. I find service rewarding based on my experience both in China and the U.S. with orphans in rural China, child library-goers, bakers with mental disabilities, individuals who face food insecurity, and so on. The Service Organization Fair this semester helped me discover Alzheimer's Buddies and connect with senior citizens with Alzheimer's disease through weekly visits. I had the training session Saturday, and it was a wonderful start.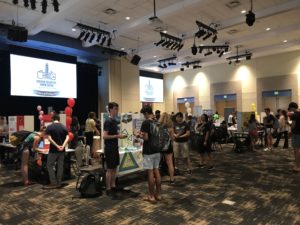 Seeing so many people with goals and efforts to improve the community in different ways—around 50 student-led service organizations and 50 non-profit organizations—I felt happy that these warmhearted people were making our world better.
Career Fair
Open to all Vanderbilt students and alumni, the Fall Career Fair is a great opportunity to find internships and full-time positions. Before going to the Career Fair, one could find information of the 150+ companies on DoreWays, the Career Center's online resource. Other resources by the Career Center include resume workshops. The Career Center also held business-themed and engineering-themed SLAMs: casual speed-networking events in which students and recruiters connect.
Undergraduate Research Fair
Held by the Office of Immersion Resources, the fair enables current undergraduate students to present their research projects from a variety of disciplines. I went to the fair to support one of my friends, and she gave a presentation on her work about synaptic elimination. I not only learned about the academic side and research commitment of my friend, but also recalled the significance of synaptic elimination covered in the Peabody course Developmental Psychology I took in the spring.
Besides the above, Vanderbilt also has Study Abroad and Passport Fair (sponsored by the Global Education Office), the Foreign Language Edge (hosted by the Center for Second Language Studies), Maymester Study Abroad Information Fair, and so on. Come to the fairs to discover resources, explore opportunities, and connect with people having similar interests!