Being Undecided in College
Coming into college, I had no idea what I wanted to major in. I had spent countless afternoons reading through Vanderbilt's list of majors and I felt uninspired by most. I didn't feel the burning passion that many people around me felt when they talked about what they'd be majoring in. Obviously, this made me worry a lot. Was I ever going to find something that I loved? Or would I be stuck in a job I absolutely hated? Well, for all my undecided friends out there, you need to breathe first. Browsing through the list of majors numerous times with no idea what you want will only add to the stress you're probably feeling right now. You won't be behind if you don't decide on a major in first semester. It might feel unsettling when many people around you seem to know exactly what they want to do with their futures but one thing to remember is that everyone's academic journey is different. Here are a few tips I've found useful in deciding what to major in:
Taking advantage of Vanderbilt's Career Center and Health Professions Advisory Office
The Career Center offers many services from coaching appointments to resume reviews. Many people at Vandy have found success using the resources from the Center. Everyone there wants to see you succeed and they're very willing to help you out. The Health Professions Advisory Office is also a great resource when deciding if you really want to work in healthcare. I've gotten some great advice about scheduling classes and what being pre-med actually means.
Talking to upper class students
Many times, testimonies from other students can really influence the direction you take in deciding what you major in. You can ask other students farther along in a major what their classes are like and why they decided to pursue their major. A lot of students here love giving advice to first years because they've been in their shoes and want them to pass these hurdles.
Taking classes you think you'll be interested in
When choosing classes to take, take the ones you're interested in even if you feel they won't particularly further your career. I took an Environmental Sociology class first semester and I learned a lot that made me even more conscious of how I interact with my environment. When deciding what classes to take your first semester, your assigned adviser will help you determine what classes you should take. I was Undecided pre-med during first semester and this is what my schedule looked like: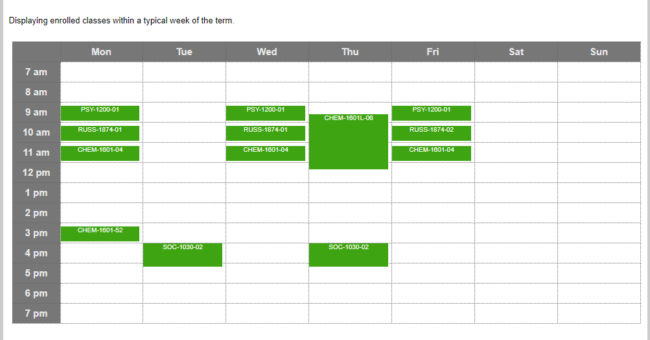 Not knowing what you want to major in can be a draining experience but keeping calm and using resources available to you on campus will help you a lot. I came into college completely Undecided but after taking a Sociology class in the fall and a Medicine, Health and Society (MHS) class this semester, I feel truly inspired. I haven't decided yet but I'm going to spend time this summer thinking about it.
If you have any questions about being undecided and/or majors at Vanderbilt, feel free to email me at chidiogo.c.nwakoby@vanderbilt.edu.