Four Hidden Study Spots on Campus
If you're like me, it can get boring and tedious to study in the same location all the time. While I love a good Central Library Visit, sometimes, I just need a new spot that's off the beaten path. These are some of my favorites:
The lobby of Buttrick Hall. When you walk into Buttrick from the main entrance and walk straight ahead, there is a little nook with comfy chairs and a few high tables. There are floor to ceiling windows and super high ceilings. It's also the perfect level of noise, because there may be the occasional conversation in the lobby and people come through in between classes. Generally, however, it is near silent, without the feeling of being cooped-up in a library.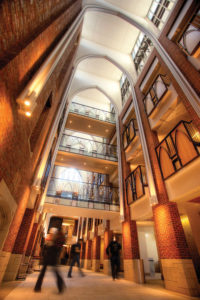 2. The landings in Wilson Hall. When going up the main staircase in Wilson, there are large landings that have big tables and some chairs. These tables are great because they are big enough for all of my things, and there are tons of outlets. Plus, like Buttrick, it stays pretty quiet without being eerie or disconnected from other people moving around.
3. E. Bronson Ingram. While the new dorm is known for its beautiful accommodations and all-you-can-eat dining hall, there is a fabulous study room off to the right of the dining hall. It looks like Hogwarts on the inside, decked in dark wood and dark leather furniture. There is abundant seating and tables, and it is silent, so it is a great working space. There are also meeting rooms in the back that are sometimes empty if you like to work in an empty classroom-type environment.
4. Hank Library. If you're a freshman, I highly recommend studying in Hank Library. My first year, I thought this was the perfect study space because it's quiet and often empty, and it's right by the freshman dorms. Perfect for late night studying!