My new favorite study spot
Ladies and gentlemen, let me introduce y'all to my favorite studying place on campus: The Periodical Room!
This spacious and well-lit room is on the 6th floor of Central Library, right at the heart of campus. It is always quiet, has windows, tables, comfy seats, and just enough people in it that it doesn't feel super lonely or distracting. I've been coming here almost every day since the start of the semester, because I realized just how productive I can be in a space with minimal distractions while still being able to see daylight.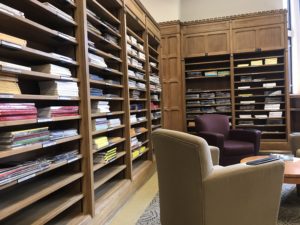 On Mondays, Wednesdays, and Fridays I spend about 3 hours here, in between my 8 am class and 12 pm class. On Tuesdays and Thursdays I do not have class until 2:35 pm, so I still come here around 9 am so that I can get started on my work for the day's classes as well as for the next day, in addition to MCAT prep. Being so productive during these hours of the day have made an immense difference in my time management and stress level because I am able to get so much more done early! This way, in the evenings after class, meetings, and workouts, as well as weekends, I can actually relax a bit because all my work is done!