How to Make an Extra Small Dorm Room Extra Comfortable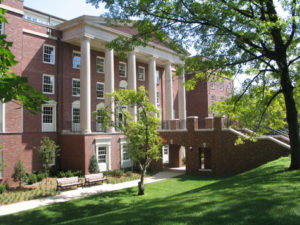 My roommate and I were at Lollapalooza, an annual music festival in Chicago, when we found out where exactly we'd be housed our first year at Vanderbilt. The envelope was a thick one, and the contents inside were mostly irrelevant. Only one thing in it mattered at the time — and that was the piece of paper with our residential building and room number.
Prior to receiving the news, my roommate and I (we went to high school together) did our research. We found out that the freshman residential dorms with the largest rooms are Hank Ingram and Crawford and that the dorms with the smallest rooms are North and Gillette, the latter of which is also the oldest dorm building on Commons. So, naturally, we were hoping to be placed into the larger buildings while also praying to avoid the smaller, older buildings.
The letter came and we had been assigned to Gillette. The smallest and the oldest.
Moreover, our room was situated right behind the elevator and next to the closet, hence making it the smallest room on the floor (and as we later found out, in the building). This is how we made up for it:
A rug. We quickly found out that despite our room's size, we were one of the lucky ones when it came to flooring. Though most of the rooms on our floor had tile flooring (which tends to get very cold very quickly), ours was hardwood. To further enhance our room, my roommate and I decided to purchase a 4′ by 6′ area rug on Amazon.
Deloft the beds. Initially, the beds had been lofted to their maximum heights to allow space for our desks and cabinets underneath. Since our ceilings were relatively low, I'd hit my head anytime I sat up on my bed. That wasn't fun, so we decided to deloft our beds and move our desk and cabinets to an unoccupied nook. Rearranging our room this way distributed the furniture evenly and gave our room a very symmetrical appearance, which is key to making a small room seem larger than it truly is.

Our beds are lofted to their mid setting. We no longer have to climb to get to the mattress, nor do we hit our heads on the ceiling.

Decor and layout. When we were choosing decor to hang up in our room, we decided that we wanted it to be both personal and aesthetic. Along with a few pictures of family and friends, my roommate and I hung up pictures of our favorite musical artists above our desks as well as a four-piece collage of the galaxy, which worked quite well with the general color scheme of our room. We also put in a little extra effort into hiding wires and other ugly, technological necessities behind furniture. Many students tend to have a microwave, a refrigerator, and/or a coffee-maker in their room and since those amenities are quite large, it's difficult to have them fit into the layout of the room. We placed the microwave and the coffee-maker on our desks and the refrigerator next to my bed, using all three as extra table-top area.

Pictured is my desk, where I've sacrificed some space to make room for a microwave. I've also placed one of the cabinet drawers right next to the desk itself to make for extra table-top space.

A diffuser. This, we realized two weeks in, is a must. Our room, despite the countless sprays of Febreeze we'd shower it with, constantly smelled like the food we microwaved or the coffee we brewed. The smell was particularly strong due to the smaller size of the room. The diffuser we use disperses a nice smell over a larger area, thus ensuring that the smell isn't too strong or weak.
Lack of nonessential furniture. With less than 200 square feet of living space, it's hard to do what our friends did with their dorm rooms, which had accessory pieces of furniture like futons, bookshelves, or TV-stands. Our room features two beds, two desks, and two cabinet drawers. Nothing more. It works though — and gives us ample space to move around a bit when we need to.
LED lights. This was the last step. The cherry on top. After we set up the room, we decided to put up colored LED strip lights from Amazon up on the ceiling of our room. I've read somewhere that contrasting shades of lights can make a room seem bigger than it really is. But that's wasn't our goal. We put the lights up because we thought it'd be cool, and it was.

Though we only attached the LED strip light to one wall, it's bright enough to light up the entire room.
Don't hesitate to contact me at neelansh.bute@vanderbilt.edu if you need help figuring out your small room, or have questions about anything at all!