An Artistic Weekend on Campus
My French professor often starts the class by a question, "Qu'avez vous fait ce weekend?" (What did you do this weekend?) This time, I will answer, "I had an artistic weekend on campus."
Friday, February 15: a movie
I spent the late afternoon on watching Thermae Romae, a Japanese film, at Furman Hall. Two Japanese sensei (Japanese for "teacher" or "professor"), one of whom organizes the event every month, attended the screening. The movie features an ancient Roman architect drawing inspirations from home bathrooms, public bath houses, plant museums, and more in modern Japan. We also enjoyed Japanese snacks when watching the entertaining movie. I look forward to dango (sweet Japanese rice balls) making in March and a toy event in April for more insight into Japanese cuisine and recreation.
Saturday, February 16: an exhibit
I decided to take a glance at the Kefi Collective exhibition of "Homesickness" since I knew some of my friends were contributors, and on Saturday morning, I examined every piece of the exhibit while in a nostalgic mood.
Irene Liu's photographic works of her parents' hometown feature red decor: lanterns, ribbons, and pillars. The photos portray a "home" unique in minority culture and distant from her urban residence.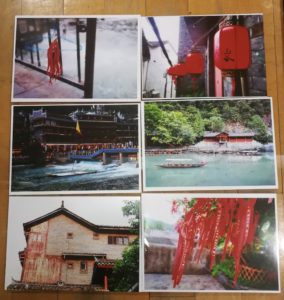 Yanxi Yu's collage depicts the cultural charm of her hometown, as well. Yanxi illustrates a face-changing performer whose cape is adorned with magnificent waterfalls and colorful mountains. The collage elegantly interweaves cultural and natural landscape.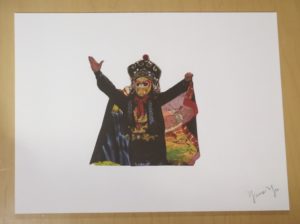 Yuchen Xu similarly focuses on the art of combining. As Yuchen identifies himself as a soul with diverse experiences, he weaves a poem of Henry David Thoreau and verses from three Chinese poets.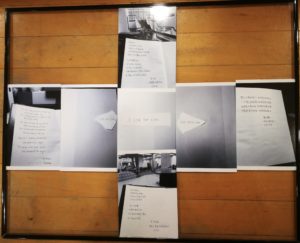 As I admired the artworks, I noticed ways in which my life was connected to the authors' experiences: I had learned about Irene's hometown in a Chinese literature course two weeks ago, hoped to watch a live face-changing performance, and delivered a short speech about Thoreau's book in a television show. The three works and other pieces of the exhibit varied in type of media: poetry, collage, painting, and photographs. While the homes were familiar, novel, or a combination of both, the feeling of homesickness (xiangjia or sixiang in Chinese) could be universal.
Sunday, February 17: a play
In high school I had written a play for creative writing, and last summer I had watched some Chinese plays. As a result, I have enjoyed the productions of the theatre department at Vanderbilt since they complement my own experience with theatre. Last semester, I had watched The Language Archive; this Sunday afternoon, I enjoyed Twelfth Night. Before stepping into Neely Auditorium, I did not know what would happen in this Shakespearean work. The skillful lighting, the fine props, the elegant music, and the poetic lines led me into the story of Illyria and its residents. This comedy explores themes of misunderstanding, romantic relationships, and loyalty. The performance was one for which the audience could laugh, sigh, and cheer.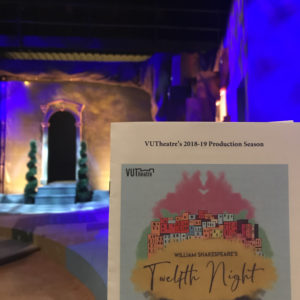 In these three days filled with art, my love for Vanderbilt grew. I explored universality embodied in the artworks of peers, enjoyed a Japanese film and snacks, and learned about theatre techniques from watching the play. Irene, the Kefi photographer, told me I had eyes to discover beauty, to which I replied, "I am grateful that people around me have minds to create beauty."