Play Bridge and Be a Bridge: Yuchen Xu
In the Thanksgiving Break, I interviewed Yuchen Xu, the president of Vanderbilt University Bridge Club. Hope the following questions and answers will provide insights into college life, Vanderbilt experience, and more!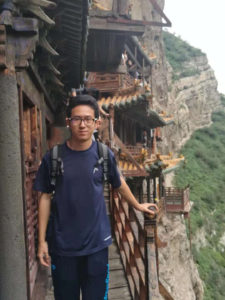 Part I. "I am"
Year: Sophomore
Hometown: Beijing, China
Majors: Neuroscience and Computer Science
Extracurriculars: Bridge Club, Undergraduate Honor Council, InterAxon
Places You Have Traveled to Recently: Boston, Seattle, Portland, Atlanta, Charleston, and Tibet
Three Words to Describe Yourself: Working, thinking, connecting
Part II. Poetry
How has poetry/literature influenced you?
Greatly—I think of them as the spice of life. I am a STEM student and I genuinely love math and sciences, but literature, especially poetry, touches on the emotional and sensitive side of me, which sciences cannot most of the time. In daily life, I frequently think of different lines that I've remembered and it's one of my most important sources of mental strength.
How have your poems influenced others?
For me, writing poems is more of a form of self expression than exerting an impact on other people. However, I am still glad when people feel connected with what I wrote or learn more about me through my poems.
Part III. Bridge
What motivated you to found VU Bridge?
I had played bridge for six years before I came here, so I am very passionate about it; I was also on my high school's team for three years and had experience organizing activities. I wanted to build a community for bridge players on campus and also introduce the game to more people.
Your Favorite VU Bridge Memory:
Over the fall break this year, four other members of the club and I played in a regional tournament at the local Vanderbilt Bridge Club of Nashville. We were the youngest players (and probably the only group of young people), and we were warmly welcomed by the club.
How has bridge benefited your life?
Bridge has influenced me in many respects—for one, it has improved my reasoning ability and helped me become better at planning. For another, I have made many great friends through playing bridge and socializing with other players.
Part IV. Vanderbilt Experience
Describe your favorite course at Vanderbilt.
It's really hard to make a choice—almost all professors I've met so far are great people who care a lot about teaching, so I've enjoyed my experience in all courses. Overall, I would say Neuroscience, taught by Dr. Smith, gave me an awesome introduction to the field and made me make up my mind to major in neuroscience. Art and Politics, taught by Professor Folgarait, really broadened my horizons by teaching me how to perceive and analyze artworks, which added something unique to my traditional-STEM background.
What languages do you speak? Share one fun moment of language learning at Vanderbilt.
I speak Chinese, English, and a little bit of Spanish. Learning to interact with people in daily life settings or social learning in general is definitely one of the greatest challenges for international students. I gradually learned to say "thanks, you too" intuitively when checking out in dining halls and the people there say something like "have a good one." Then one time last semester in Rand, she said "good luck on your finals" and I replied the same thing…
Answer "Why Vanderbilt" by Four Words:
Professors, Campus, Friends, Environment.
Part V. For the Readers
One Piece of Advice for Commodores Sharing Your Academic Disciplines:
The neuroscience major and the pre-med track are not easy, so I think passion and interest in the subject matter are the key to success. There will be ups and downs, but having the end goal in mind will get you through it more smoothly.
Two Suggestions for International Students:
Keep up with all your courses and seek help whenever you feel like you need it.
Be open-minded, reach out, talk with people, and learn about the culture.
Anything Else You Want to Say: Anchor Down!