Shadowing 101
A big part of being a pre-med student is seeking out opportunities to learn about the field outside of the classroom. One of the best ways to do this is through shadowing physicians. Shadowing entails following a physician around over the course of a regular work day, and seeing what their career looks like up close. The physicians will explain what they're doing along the way, and you can ask questions to learn more about the sort of patients they see and procedures they perform.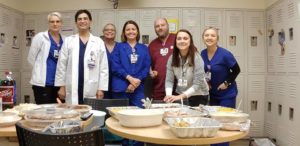 It is really common amongst pre-med students to shadow physicians at one of Vanderbilt's many medical facilities. I personally was able to shadow a psychiatrist (my intended career!) at the Vanderbilt Psychiatric Hospital over the fall semester. One of the best ways to find a physician is through the shadowing program run by Alpha Epsilon Delta, the pre-med society at Vanderbilt. They contact physicians, find people who are happy to have a student shadow them, and match students with physicians. From then on, you can email your physician to find days where your schedules line up, and shadow them! The physicians range from psychiatrists, to pediatricians, to surgeons, and so on. Through my shadowing experience, I was able to watch a psychiatrist interact with a variety of patients from various age groups and backgrounds, from which I gained so many insights.
Additionally, it is possible to shadow during breaks. Whenever I am at home, I shadow physicians at my local ER, where my mom happens to be a nurse. Shadowing in the ER is such a unique experience because of the fast pace and variety of patient issues. If you send out emails to local physicians, it is possible to track down experiences like these for times like summer break.
Having shadowed multiple physicians in multiple settings has really expanded my view of the medical field, and shown me why shadowing is such an integral component of being a pre-med student. Something as simple as sending out emails or signing up to shadow through an organization can lead to a really enriching experience. If you have any questions about what it is like to shadow, or about Vanderbilt in general, feel free to email me at alex.rains@vanderbilt.edu.