Semester #6
Believe it or not, this is my sixth semester here at Vanderbilt! I have learned so much over these past two and a half years, but of course, I still have a lot to learn. So, here's a quick mid-year update on me: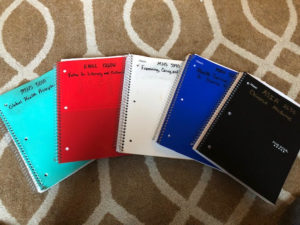 This semester I am taking Introduction to Literary and Cultural Analysis, Global Health Principles and Practice, an MHS Special Topics course on Examining, Caring, and Caregiving, Health Service Delivery to Diverse Populations, and Chinese Medicine. So far, my favorite class is Health Service Delivery to Diverse Populations, which falls under Human and Organizational Development (HOD) on the Health and Human Services track. In this class, I will be learning how different aspects of someone's culture, body, and physical location can affect their access to health services. However, all of these classes count towards my major in Medicine, Health, and Society and my minor in HOD. But the best part is that on Tuesdays and Thursdays, I don't start class until 1PM! Pretty cool, right?
In addition, this semester I have two jobs that I truly enjoy; shoutout to Hire-A-Dore, which lists all available on-campus and even some off-campus jobs for Vanderbilt students. This semester, I am involved in the student organizations Melanated A Cappella, Voices of Praise, New Dawn, and Volunteers for Health. I will definitely be busy this semester, but somehow it makes me more productive since it requires great time management.
For Spring 2019, I am excited to see the author of The Hate U Give, Angie Thomas, speak on campus in February and Rites of Spring, our huge two-day on-campus concert, in April. I am very excited to see what this semester has in store for me. If you have any questions, feel free to contact me at ashli.alexander@vanderbilt.edu!