Dancing Through Life
Coming into sophomore year, my main goal for the semester was to find a better balance between school, social activities, and exercise. Vanderbilt is ranked as the university with the #1 Happiest Students, which theoretically means that everyone is well-adjusted and living a balanced life. While Vandy is definitely an amazing place, a lot of students on campus feel like they have to choose between academics or neglecting their studies to have an active social life. With these jam packed schedules, it's often easy to ignore healthy eating, exercise, and general self care. This is why I wanted to introduce y'all to one of the activities I'm participating in this semester that has really helped me de-stress and live a more ~balanced~ life – The Diwali Showcase!

Vanderbilt has a variety of cultural showcases every year, with Diwali being the first and only one of the fall semester. In the spring, there are Asian New Year Festival, Café con Leche, and Harambee. These showcases are designed to celebrate and share various aspects of a specific culture through dances and guest performances from students and organizations. The Diwali Showcase, organized by the South Asian Cultural Exchange (SACE), focuses on South Asian culture and includes many dances like Bhangra, Bollywood, and Classical. This year, I was put onto the Fusion Gold team, which combines all of these dances together.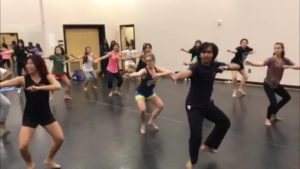 Joining this showcase really put me out of my comfort zone because I haven't danced since I was 7 and I generally have really bad coordination. Additionally, with The Diwali Showcase drawing up 1500 people every year, my mild stage fright started to kick in. However, I immediately felt better at the first rehearsal after seeing that everyone was learning from scratch in the same way that I was. With two 2-hour rehearsals each week, it has been a super fun way to learn more about South Asian culture, meet new people, and get much-needed study breaks at night. As a non-dancer, I was initially very surprised at just how much exercise you get from dancing. But after thinking more about it, it makes sense that it would be tiring to keep your body constantly in motion. I'm so thankful for how these rehearsals help me relax from the stress of exams and just allow me to have fun and dance with friends. Since my suitemate Nicole and I are in the same dance group, we've also had a blast just practicing together in the suite. After about a month of rehearsals, I'm already so impressed with all the progress that we've made and I'm so excited for the showcase to come!!
PS. s/o to anyone who got the Wicked reference in the title :~)