Spotlight: Disabilities Awareness Partnership
Being a college student is amazing, but it can also be rough sometimes, especially so if you happen to be a college student with some kind of disability. That's why this week I wanted to talk about support systems and highlight a student org I am a part of called the Disabilities Awareness Partnership (or DAP for short, which allows for lots of DAPper Puns :D )
DAP started out as a project in one of the Mayfield Lodges (one of Vanderbilt's cool Living Learning Communities) by a group of students who either had a disability themselves or were passionate about issues surrounding disability and access on campus. It then became a student organization, allowing more people to join and really starting to grow. Every year DAP puts on a variety of events on campus to raise awareness about issues that affect students with disabilities, and to give the Vanderbilt community a chance to hear from some of our disabled members/members with disabilities (we also explore interesting topics like individuals preference or rejection of person first language). The events are a great opportunity to grow; I know it has helped me grow from someone who was afraid to even identify with a disability into someone that feels comfortable advocating for myself and others.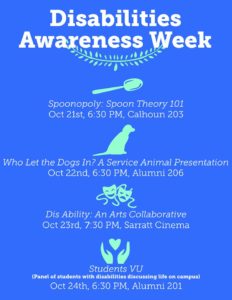 Beyond the growth from reaching out to the campus though, DAP has been an amazing group of friends and supporters. While we have the folks at the Disability Services portion of our Equal Opportunity, Affirmative Action, & Disability Services Department (EAD) to help with concerns, having a group of fellow students who can sympathize with you after a rough week or offer tips on how to best utilize accommodations can really be a life saver. The members of DAP cover a wide range, from physical to invisible disabilities to students who have disabled family members. We have members who have lived with their condition for a lifetime and some people who are just learning to deal with a newly emerging disability.
All this goes to say, I encourage anyone who comes to Vanderbilt and has a disability to reach out. The EAD has plenty of services exist to help you succeed, and there are plenty of students in the same or a similar situation that would love to be there to support you. Being a student with a disability doesn't have to be something you go through alone. On a broader note, for anyone that comes to Vanderbilt, try to find a place where you feel supported, because I'm confident you will find one. Whether it is your House on the Commons (East is Beast!), your Visions Group,  an affinity group student org, or something entirely unique, Vanderbilt has a campus full of students that care and want each other succeed. All you have to do is reach out! For any prospective students or current students that are looking for someone to talk to, I always love to hear from you so feel free to shoot me an email!