#StayMadAbby
"If someone from admission was here to take a picture of this room for the brochure, they would."
The truth is that no matter how diverse a university brochure is, it never truly tells the multi-layered story of each 1,600 person Vanderbilt class. Each student comes from a racially and geographically diverse background. Falling into your routine on campus can make this fact easy to overlook, and that's why Vanderbilt NAACP's Political Activism Committee held the event #StayMadAbby using the Supreme Court case Fisher vs. University of Texas to initiate a conversation on affirmative action in the college admissions process.
The panel was made up of four individuals. Each one educated on affirmative action from a different perspective, they answered loaded questions such as "how should we change affirmative action to make it more effective in achieving its purpose?" and "do you think other forms of diversity/sexual orientation should be implemented into the admissions process?"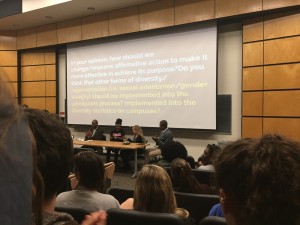 Hearing each panelist's answer allowed me to deeply think about the issue, considering aspects I'd never been challenged to work through based on my own personal background. Everyone in the room came to the event to learn and agreed that diversity has undoubtedly made Vanderbilt's campus excel both in academics and social awareness.
However, the conversation wasn't always comfortable. The panel opened the discussion to the audience, and I learned the affirmative action process isn't as full proof as I'd like to think.
Individuals from all backgrounds stood up to tell their stories, and it hit me that Vanderbilt really does have some of the smartest, most socially aware and passionate students from across the country. That being said, it was noted that students from less privileged backgrounds never have the opportunity to attend Vanderbilt or even become aware that this institution exists.
My main takeaway was that racially diverse doesn't always mean socio-economically diverse, and affirmative action should never be looked at as a process to meet a quota. It should be looked at as a process that benefits both ethnic minorities and those around them that have the opportunity to gain the unique perspective they bring to the table.
So, what can I do to combat this issue and become more educated? I started to become self-aware about just how much I had to learn about some of my peers' backgrounds and stories. The answer is that I have to read. The panelists all recommended books that offered insight into the topic of diversity. Because the reading at Vanderbilt can pile up, the next solution is to go events like #StayMadAbby, ask questions, and never shy away from learning all that this campus has to offer.
I wish that Vanderbilt Admissions had endless opportunities to capture a classroom as diverse and engaged as the one I was in to show how eager the student body is to learn more, but mostly the opportunity to capture what that event taught me about those around me.