The Write Way
As an international student from India, I have been fortunate to experience two completely different education systems across continents. In India, my high school education was more focused on STEM and while I have always enjoyed English, it always took a backseat to Physics, Chemistry, Math and Econ. Therefore, I did not get the chance to explore the different aspects of writing long papers (in my defense, Common App essays did take a lot of time!).
However, after coming to study in the U.S., I have been given the opportunity to take many writing courses, thanks to our liberal arts curriculum (AXLE).
In my first semester, I took 'Love, Marriage and Culture', a first-year writing seminar. I had never even heard of MLA before (gasp!) and therefore, I decided to visit the Writing Studio, located on Commons (there is one at Alumni Hall, but I am very lazy!). The Writing Studio is a great resource for students, especially first-years, who wish to develop their writing skills. Apart from college papers, I have gone to the Writing Studio to discuss résumés and written applications as well.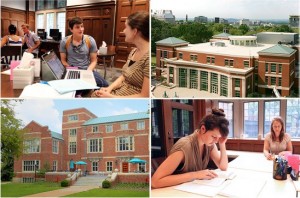 The best part about the Writing Studio is that it offers individual consultation sessions of 50 minutes each. I usually go to the Writing Studio after I have completed a first draft of a paper. But, if you are facing writer's block, the Studio can help you brainstorm and come up with cogent arguments. Moreover, there are several workshops held throughout the semester in which experienced writers share their tips and strategies to write an effective paper.
It has become a habit of mine to go to the Writing Studio whenever I have a major writing assignment, whether it is a written application or papers. First, I go to my professors' office hours to discuss the main arguments of my paper. I love going to such discussions because my professors have helped me explore some aspects of my topic that I had earlier overlooked.
After making bullet points for the main argument of every paragraph, it takes me a week to write a first draft. Then, I promptly make an appointment at the Writing Studio for a consultation. Many times, these consultations focus on the nuances of my paper, but in the recent past, they have helped me further develop the larger themes of my paper. Why does Edgar Allan Poe depict elements of horror in such a perverse way in 'The Murders in the Rue Morgue'? How and why does Arthur Conan Doyle reinforce conventional Victorian values in 'A Study in Scarlet'?
After my session, in which I take detailed notes, I revise my first draft. This process takes another week. So, writing a paper is a two-week long process for me (I am not a productive procrastinator!). Two weeks for a paper may seem very long, but this time margin gives me the opportunity to view my main arguments from different perspectives and revise my paper till I am sufficiently satisfied with it.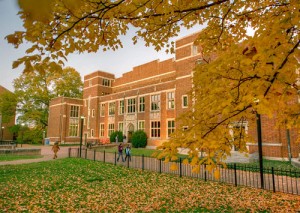 Finding the right sources for a paper is another crucial element of paper writing. Right now, I am finding sources for my final research paper on Dorian Gray. Vanderbilt has excellent libraries (Central Library is the one I usually visit). ACORN is the convenient online catalog for books and articles. Also, the MLA International Bibliography is another great resource to find the right sources for a paper.
Of course, blogging for Inside 'Dores also helps me develop my writing skills. While writing college papers can get tiring at times, blogging is the perfect way to take a break and still not feel guilty about neglecting writing. I have never maintained a personal diary, but Inside 'Dores kind of serves as one (though anyone can read it!). I also love reading others' blog posts as they offer me a glimpse of different styles of writing. I read nearly every Inside 'Dores' blog post during the summer before college! If you want to learn more about the art of blogging, why don't you take a class about it? Claudia can tell you more about it!
Enough procrastination for now. Back to Dorian Gray……….