My Experiences with Ferguson
While my previous blog posts were quite lighthearted, my final two of the semester are more serious. Although the interwebz have been inundated with opinions about Ferguson and I'm sure many of you could care less about what yet another young'un thinks, the situation made a significant impact on me this semester; therefore, I endeavor to commit my experiences to writing so that future Jose can look back many years down the road and remember exactly what happened.
Anyways, my involvement with Ferguson began thanks to a fantastic sociology class entitled "Social Movements in the Sixties". As we studied the civil rights movement, I began to draw parallels to the protests going on in Missouri. Naturally, the class attracted many activism-minded people. Thus, when I heard from them that Vanderbilt's NAACP chapter was planning a trip to protest, I jumped onboard. My main reason obviously was to fight for what I saw as injustice; however, it was also to get more informed about the state of affairs without media bias.
I was amazed by just how supportive the university was. Although officials didn't actively recruit people for the trip, the Dean of Students and the Vandy police showed up at the pre-trip meeting. They went over our rights as protesters and procedures in the case that anyone got arrested. They wished us the best of luck and went on their way. The meeting itself reminded me of the workshops ran by James Lawson in Nashville during the early-'60s, where the tenets of non-violence were taught and practiced. For example, we simulated being arrested and what to tell police officers in such a situation.
The big day arrived and we drove the five hours to St. Louis, arriving late Friday evening. The main focus of the trip was Saturday morning's planned, more-sterile mass protest downtown. However, for those who were up to it, we decided to drive to Ferguson for the more spontaneous, free-form night protests. As we got closer to Ferguson, police presence steadily increased. It felt quite uneasy seeing throngs of riot-shielded police; it's one thing to see it in the media but quite another to see it in real life. The members of my van were predominately black and thus the police racially profiled us. Despite having broken no traffic laws, we were forced to the side of the road and commanded to put our hands up. They questioned the driver about our plans, while they searched the van with their flashlights. They then placed a police escort behind and in front of our van and forced us to drive twenty minutes out of the city. To see such flagrant misuse of power was absolutely shocking and appalling; we were literally charged with driving while under the influence of being black and taken out of the city.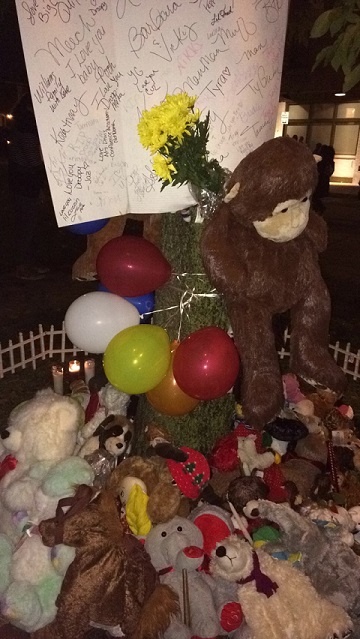 Although this was a bit of a letdown, the march itself the next morning was worth the price of admission. The crowd that showed up numbered in the multitude of thousands and was diverse as they come. I met people from Germany, bonded with a hippie back who had fought for desegregation at his alma mater (Michigan State University), protested side-by-side with representatives from the LGBTQI community, and was given many a Communist newspaper. The latter claimed that Mike Brown was not a victim of police brutality but rather capitalism; go figure. Every group resonated in their own way and/or piggybacked off the march to promote their own causes. One of my favorite protest motifs was "Indict, convict, send that killer cop to jail. / The whole damn system is guilty as hell".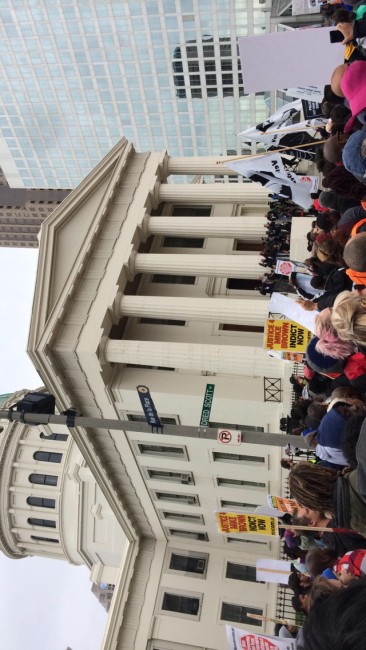 We returned home feeling semi-accomplished; we had lent our voices against oppression but failed to do so in the messier arena of Ferguson proper. Fortunately, we were given the chance to go back, which will serve as the focus of the final blog post of the semester. Stay tuned.