There's Always Next Year
As a Titans fan, this seems to be our motto that we have adopted. I guess it's not as bad as being a Jags fan but its just as bad. The other day, the Titans played the Pittsburg Steelers where we gave up a substantial lead and almost surely knocked ourselves out of any chance of playoff contention.
Anyways, I was able to get tickets to the game through CityVU that organizes different activities around Vanderbilt and selects only a handful of people to bring a guest with them. Last year, I won tickets to Taylor Swift through the program and I was able to see my hero in the flesh. Luckily for me, my girlfriend won tickets and she decided to take me with her. Unfortunately, she was a Steelers fan so there was a clear division of interest.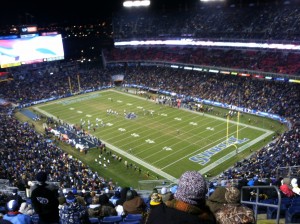 It was a Monday night game, on Primetime Television and of course it happened to be the second coldest game ever played on LP field with a wind chill of 16 degrees. I was cold. Very cold in
fact. I told myself I was going to wear two pairs of socks and I forgot. Just another day in the life of Jae Maeng.
But then it was ok, the Titans went out first quarter guns blazing, led by Rookie Quarterback Zach Mettenberger aka The Mettsiah. The Titans went up 24-13 and the world was in awe as the Titans were about to pull off an incredible upset. But then, we remembered we weren't a very good team and so we proceeded to blow the 11 point lead and let the Steelers run the game out.
It was a tough loss, but since I was so cold, I couldn't feel anything anyways. The playoff race is over for us, but there is a chance that Mettenberger could be our franchise QB if he is able to develop over the course of the season. Who knows what will happen to my beloved Titans or if we'll ever see a winning record, but there's one thing for certain… There's always next year.