A Weekend to End All Weekends
Although the title seems to indicate that this weekend was extraordinary (which it was), it should be noted that such action-packed, fun weekends are the norm here in Vandyland; there's always something going on that showcases the diversity of the student body.
Fridays are beautiful. I get out of my last class at noon and the sweet taste of freedom envelopes me. With no responsibilities or commitments until the realization of homework hits me at 11 pm Sunday night, I am free to do whatever I want (within the boundaries set by the laws of physics and the state).
On this particular Friday, I ran into my friend Travis who tells me that there is an open mic gig at Mayfield 12. My only musical experience is the recorder and kazoo, but I was eager to go and just watch. When I got there, I learned that the theme was international this month. A Mayfield consists of a group of 10 students rallying around a particular cause in the Vandy and/or the larger Nashville community. One aim of this Mayfield was to expose students to different genres of music and get them more involved in Nashville's immense and diverse music scene.
As we listened to my friend Jamie sing/teach us the classic "Head, Shoulders, Knees and Toes" song in Swedish and another serenade us with a traditional Scottish hymn, we merrily feasted upon gourmet oreos and tea. I look forward to next month's event, which I'm told is going to be rock 'n' roll-themed!
Feeling cultured, I left the Mayfield and went to play indoor soccer with my old teammates from the Muslim Student Association (MSA) intramural team I played on last spring. Afterwards, I saw the perennially-fantastic Melodores perform in Dank New Rand (one of Vandy's many fine dining establishments).
The highlight of my evening though was the first McGill party of the year—Dungeons and Drag Queens. I chose the latter course. I wolfed down a pizza after the show and scuttled on over to my good friend Laura's room to get prepared. After being subjected to a whole slew of torture devices such as an eyebrow curler and a mascara applier for what seemed to be hours, I must say that I turned out quite stunning. My roommate got a similar treatment. We look pretty good if I don't say so myself!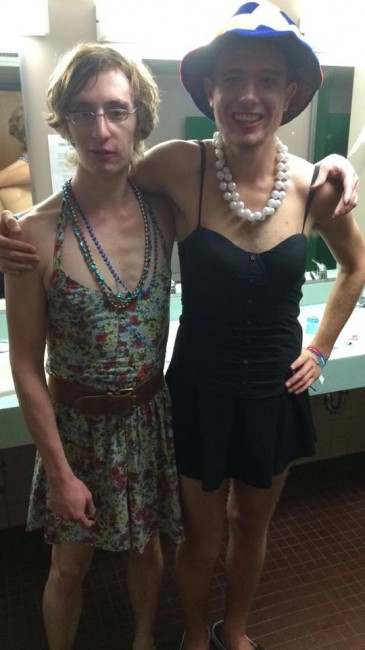 'Twas quite a surreal night. Many of my friends also joined in on the cross-dressing fun. Some were unrecognizable, completely taking me by surprise. Everyone was supportive. As the party wound down at McGill, I went to a party held by the Christian fraternity, BYX. After that, I walked to a packed campus convenience store to grab a midnight snack. Everywhere I went, people accepted me for how I was dressed and many students even complimented my ensemble. Although the LGBTQIA+ community still has a lot of work ahead to become wholly accepted and integrated into campus, this night exemplified that these lofty goals can and will be realized. I feel honored to be part of a campus where, every day, alternative lifestyles are becoming more and more accepted.
And this was only the beginning. As I struggled to remove eye shadow and fingernail paint, more exciting happenstances appeared on the horizon. Stay tuned for more weekend shenanigans!