The HOD Internship Experience
If you, dear reader, eventually find yourself in the same position as me (a stunningly attractive junior or senior in the Human and Organizational Development program at Vandy), then you will be required to complete an HOD Internship. The HOD Internship is a capstone project of sorts for HOD majors, during which students apply the organizational concepts they've learned in class in a real-world setting, a semester-long full-time internship. It's a little different from any other internship you might have encountered, as students are required to turn in coursework that deals with their internship experience and go to a three-hour "seminar" once a week with a professor to discuss and turn in their 15-credit-hours-worth of work.
The idea of an internship incorporated into my major is right up my alley because I'm a yahoo who learns best by getting my hands dirty and making mistakes every now and then. What better way to prepare for post-grad than by jumping into the post-grad work load!
The first step in the internship process is going through the HOD Internship Office to assess your strengths, weaknesses, and career aspirations. Once you've talked through your scary professional goals, the internship coordinators send you off on your way to scour the HOD Internship Database and the internet for internships in one of the 6 available internship locations: Nashville, New York, Chicago, San Francisco, Washington D.C., and London. When the HOD Internship coordinators say that they won't baby you through the process, they really mean it. If you are unable to find and nail down an internship for the following semester or summer by their assigned (or extended) deadline, you just have to find an internship for the next semester.  Thankfully, I got an offer from the Campus Recruiting Department at Deloitte in Chicago (after several generous deadline extensions), and I packed my bags for the Windy City.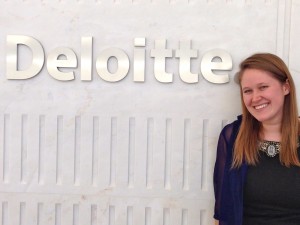 HOD Internships are required to be 32-40 hours a week, with time set aside on Monday afternoons for a three-hour course taught by an HOD professor in the location of their choosing. I met with Professor Lana Brown at the Union League Club of Chicago every Monday at 4:00pm, and the extra fun/special/intimidating thing about that was that my class was made up of only one student…me! I quickly got used to this one-on-one time, and I truly enjoyed my sessions with Professor Brown each week doing a "round table" about my observations and experiences at Deloitte and delving into special topics like "The Art of Analysis" and "Intervening in Organizations". Meeting at the Union League Club of Chicago was super swanky because our meeting rooms were adorned with famous paintings, and we sat at glossy wooden tables topped with fancy water glasses, pitchers of water, and bowls of pre-packaged mints. There was even a complimentary coat check. WOW.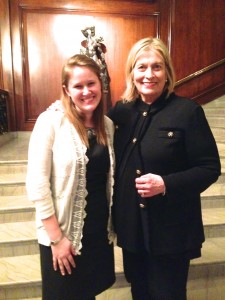 Some of the larger assignments I turned in were a personal Individual Development Plan, an Organizational Analysis of Deloitte, my Senior Project Memo, and my Final Presentation. A few of the sessions with Professor Brown actually met at different locations around Chicago, including the member's lounge at the Art Institute of Chicago, and the café at the top of Nordstrom's on Michigan Avenue. I'm afraid that now I am a little spoiled in the "class location" department, whoops.
The work I did as an intern in Deloitte's Campus Recruiting department was very administrative and logistical, as campus events and in-office events require lots of planning and keeping a cool head when chaos erupts. The best thing about my internship was working with the fabulous Campus Recruiting team, made up of individuals who always appreciated my small contributions to the team and who would pop by to check on how my summer internship search was going or to hear about my weekend doughnut crawl. It's only been a few weeks since my last day, but I already miss these Chicagoans.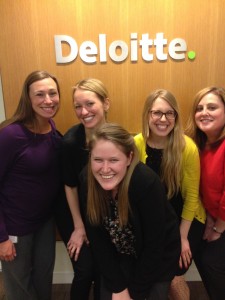 I am most proud of the senior project I completed during my time at Deloitte, something I am hoping will be a legacy of sorts. Each HOD student is required to complete an intervention-based project at their internship site, stemming from objective data collected via field notes during the first half of the internship. I noticed that the Campus Recruiting department deals with constant transition, in that employees come and go from the recruiter and coordinator positions regularly. In response, I revamped the Shared Drive for Coordinators in an online Coordinator Hub, in an effort to centralize the location of frequently-used templates, contacts, and reference tools. I hope that my solution provides a more efficient way for current coordinators and new hires or contractors to get up-to-speed with recruiting processes. If not, at least I'll have the sweet sweet memory of presenting my proposal to my professor in this larger-than-life conference room, to the tune of strawberry lemonade and a personalized cupcake: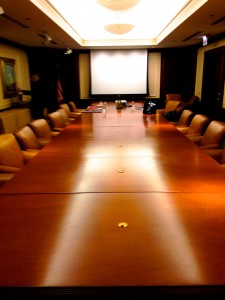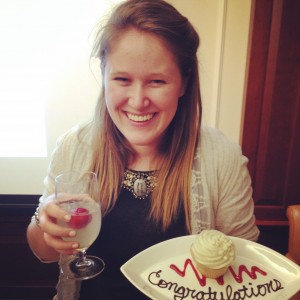 Hard not to love life when that's what your final class looks like.
It's tricky to balance a full-time internship with 15-hours-worth of coursework, but the HOD Internship sure does know how to give you a taste of the real world.