Beating the Draw
Tomorrow morning, on December 6th 2013, despite having to study for my back-to-back exams on Saturday, I will be eagerly watching a group of old Swiss men draw numbered balls out of a bowl. Its the FIFA WORLD CUP DRAW.
Tomorrow morning at 10am central time, the drawing of the world cup groups will take place at Bahia, Brazil. The world will eagerly be awaiting to hear the future of their national team when they go up on the big stage against the rest of the world. Unfortunately, soccer isn't really a big deal in the US so most people don't really care, but the rest of the world cares and I care also. Its the greatest sporting event in the world and I love every minute of it. The best part of it all is the sense of nationalism that transpires during the course of the month. Its one month every four years when an entire nation can ignore their differences and gather as one to support their team, their country on a world-wide stage.
It's an amazing event. The excitement over the course of the entire month is unparalleled to anything else. Having this strange South Korean-Australian hybrid mixture in my past, I've been able to experience this type of nationalism twice-fold. In 2002, South Korea co-hosted the World Cup where they made a deep run in the tournament and in 2006, Australia qualified for the first time in 32 years by beating Uruguay on penalties. Both these times, the atmosphere was amazing. I remember in 2002, the local Korean church played the South Korea vs Spain mach with a huge projector and there were hundred of Koreans who I had never seen before who all gathered in support of our team, our nation. In 2006, since the World Cup was held in Germany, the time difference was insane and matches were played at the crack of dawn, local time. But that didn't stop us Australians from gathering at 3am on a weekday to watch our nation battle it out with the likes of Italy and Japan. The sense of unity that a month long soccer tournament can create is remarkable.
Anyways, back to the draw.
So, there are currently 32 countries that have qualified into the world cup. They have been separated into 4 "pots" which are mainly based on regions such as Asia+North American in Pot 3, Africa+South American in Pot 2 and Europe in Pot 4.
One nation is drawn from each pot to create 8 total World Cup groups of 4 teams each.
Listed are the Pots:
Pot One: Argentina, Brazil, Belgium, Colombia, Germany, Spain, Switzerland, Uruguay
Pot Two: Ivory Coast, Ghana, Algeria, Nigeria, Cameroon, Chile, Ecuador
Pot Three: US, Japan, Iran, South Korea, Australia, Mexico, Costa Rica and Honduras
Pot Four: Bosnia-Herzegovina, Croatia, England, France, Greece, Italy, Netherlands, Portugal, Russia
Ideally, you don't want to be drawing the powerhouse soccer nations. Those are: Argentina, Brazil, Germany, Spain, Italy and the Netherlands. Drawing one these nations creates quite a damper in a nation's World Cup hopes. But, its not impossible.
As South Korea is number one in my heart, I will be hoping we get the easy group of potentially Switzerland, Algeria, South Korea and Bosnia-Herzegovina.
Speaking of which, I play intramural soccer at Vanderbilt with the Korean Undergraduate Student Association and we have "practice" every Saturday so if you're Korean (you don't actually have to be korean) and like to kick around, you definitely should join us.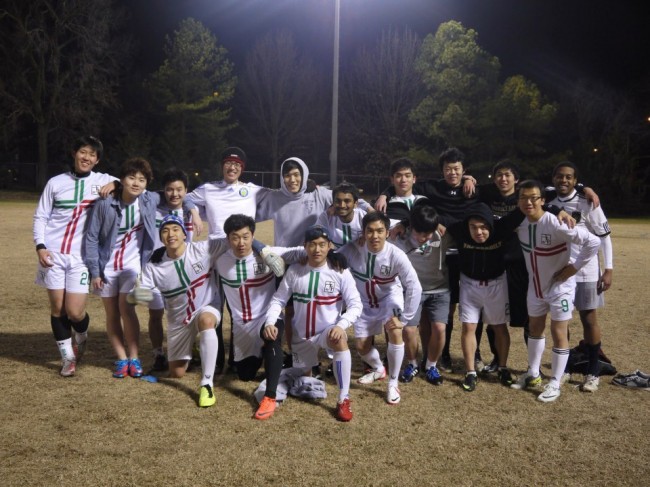 P.S. if you spent time trying to find me, I'm not actually in that picture