The Last Nationals
Being on the club soccer team has been a huge part of my time at Vanderbilt.  Heading into the national tournament last week, I was acutely aware that it would be the last time I traveled with my team to Phoenix, the last tournament I would play in, and the last time I would convince everyone to go to In-n-Out late at night after our games–you could say I was pretty emotional. I had a wish of winning the national title, but that wish did not exactly come true the way I wanted it to–but not for the reason you might think.
Upon arrival in Phoenix on Wednesday night, everything was looking good. There was rain in the forecast for Friday and Saturday, but it's Phoenix–when does it ever actually rain? We weren't concerned.  We woke up bright and early on Thursday to take advantage of the complimentary breakfast at our hotel, and I then went back to my room and promptly fell back asleep for another hour and a half, since our first game wasn't until 1pm that day.  We played the University of Colorado (I think…?) in our first game and ended up tying 0-0–but with another two games of pool play left before the next round of the tournament, our hopes were still high and we knew we could win our next games and advance.  The second game we played on Thursday was against the University of Mary Washington–and again we tied, 1-1 this time.  UMW scored with less than ten minutes left in the game and we thought we were done for–until one of our players scored a goal with a header off of a corner kick (I've never seen a header so beautiful) and we tied it up with less than five minutes left.  Hyped up from our comeback, we went to In-N-Out that night, and as we sat in that little corner of heaven, the rain began to pour.
We woke the next morning to the announcement that games that day would be cancelled due to rain and to wait for further notice regarding the rest of the tournament.  We were discouraged, since we had traveled so far, but figured it would all be fit into Saturday's schedule somehow, and we would still get to play.  We spent the morning lounging around and then headed to the movie theater to see Catching Fire that afternoon.  Eight o'clock rolled around, and with it came the announcement that the last game of pool play would be decided by penalty kicks the next morning, followed by shortened games for the rest of the tournament.  Okay, we thought. Not ideal, but we can do this.  We went to bed slightly anxious thanks to the uncertainty that comes from deciding games through PKs, but still confident.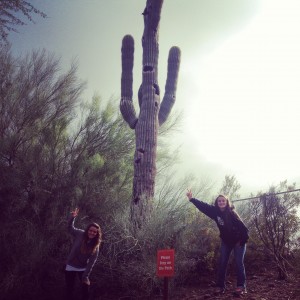 But then, we woke Saturday morning to the news that the rest of the tournament had been cancelled.  Immediately after hearing this, I was pretty upset–and I still am, to be honest.  It's my senior year; this is NOT how my last national tournament was supposed to go down.  We didn't even get to play the three games we were guaranteed, and we'll never know what would have happened.  We might have won the national title.  We also might have lost, but I'll never know.  All that I know is that technically we are co-national champions with 31 other teams in the same position we were in, and I'm not super happy about it.  I ended up going with my family and my friend Aubrey to the Phoenix Zoo that day, before driving back home to California with my parents.  The zoo was a lot of fun, and I'm glad I got to go, but not even feeding a giraffe can make up for my last nationals getting cancelled.  I can't do anything about it though, so I'm doing my best to look on the bright side–co-national champs*, right?
*x32, that is…