The Epic Airplane Saga
"Houston, we have a problem."  At least, that is what I was thinking yesterday.  Let me tell you about the events which transpired leading up to a mild panic attack.
After a glorious morning practice session, my friend N. came over for a chocolate chip pancake breakfast.  We also ate a scone or two that I had baked the previous night.  After our carb-heavy meal, our friend J.G. came over and we had an amusing Google Hangout with M.K. where we tried to figure out our afternoon fun.  J.G. remembered that ResEd was giving away free movie tickets starting at noon, so after quick search for my misplaced Commodore Card, we braved the cold to Branscomb.  By the time we got there at 12:05, all the tickets were already gone!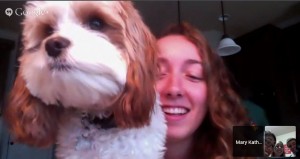 Our friends D. and O. invited us up to their Towers suite and we substituted our yes-free-movie-but-no-longer "Ender's Game" with the classic "The Italian Job", which made D. want to buy a Mini Cooper.  As the closing credits played, N. looked out the window and incredulously asked, "Is it snowing?"  In fact, it was full out snowing, which totally didn't make sense because it was still 38 degrees or something.  We ran outside like little kids and caught a few snowflakes on our tongues.  The thought passed my mind, "I hope my plane isn't delayed," but that idea vanished when I got distracted by the snowflakes on J.'s eyelashes.  Adorable.

I practiced a little more at Blair, wishing to spend some more time with Dmitri before bidding him farewell for a few days.  At around 4 PM, I got a call from a 1-800 number, which told me that although my flight was supposed to leave at 6:15 PM, the plane was delayed until around 6:50.  So I called N. and told her that we could leave around 5 PM instead.  Checking the flight status right before we left, I saw that the flight had been changed to 6:35 PM.  There was still plenty of time to get to the airport, right?
Of course, we had to dinner first, so we devoured some delicious bread bowls at Panera and made our way back out by 5:30 PM.  Oops, silly us, we totally didn't account for the weather, even though it was only raining at this time.  Or the traffic.  Or Nashville drivers.  Oh boy.
That was a hair-raising drive.  We celebrated every time we made it over 20 MPH.  We shook our heads at the sign that said, "Icing Conditions Possible," because it was still over 32 degrees outside.  We thanked our friends who let us pass into the left lane.  We did not freak out.  Okay, maybe a little on the inside.  N. had a GPS that told us the ETA, and man, that thing kept pushing back the time from 5:45 all the way to 6:13.  We blame the traffic on a little orange car we passed who was driving perhaps 3 MPH.  Sir.  It was only raining.  Normal driving conditions.

N., a seasoned driver from Michigan, safely got us to the airport by 6:14, we quickly hugged good-bye, and I sprinted.  Telling the people in line, "Excuse me, my flight leaves maybe now," allowed me to hand my ID and boarding pass to the security guard rather quickly.  Then I ran to the security check, threw my stuff in the boxes for scanning, and during this time, one of the guards asked, "Do you know what gate you're at?"  I replied, "Oh no."  She said, "Keep unpacking, I'll figure it out.  Okay, C25.  Take a right and a left and go all the way down."  I shouted a quick thank you, grabbed my bag and the guitar I was bringing for my brother, and ran.
Maybe I was a little out of shape and made it to C11 before I started to speed-walk.  But I was the speediest speed-walker in the airport, I assure you.  Of course, my gate had to be the very last gate five miles down at the very end of the terminal. But I got to C25 at 6:25.  High-five to myself.  That gate was like a shining haven.  Propelling all the way to the the Southwest counter, I told the man there, "Sir, here's my boarding pass, may I please get on the flight?"
He said, "Sorry, the gate is already closed."  What.
I told him, "I got a call telling me that the plane was delayed for 6:50 and then it was changed to 6:35."  He replied, "No, the plane already left at 6:25."  "But it definitely said 6:35."  He looked at his computer and told me, "It is closed, let me look up the next flight.  Oh, the next flight leaves tomorrow."  Oh my goodness.
Then another Southwest attendant walked out of the gate and the first Southwest guy walked over to him saying, "This lady just got here and the next flight out leaves tomorrow."  And the second Southwest person said, "Tell her to get on the plane."  What?  The plane hadn't left yet?  Yes!  "Thank you so so much!"  I profusely thanked the second Southwest man.  He asked me for my boarding pass, which was being held hostage by the first Southwest person, and then the second Southwest man waved me onto Flight 473.
Whew.  It was a close one.  But I made it!  Woot woot!  By grace I was saved and made it!  Houston, we are ready for a fabulous Thanksgiving!